Pictured above: The Schossow Group pays a visit to Q's Pub Littleton, Colorado.
Community Spotlight: Q's Pub and Grille in Littleton
​​​​​​​Q's Familiar Irish Pub Has Been Serving Food, Music and Fun for Nearly 30 Years...
The Schossow Group
February 25, 2022
Head just north of C-470 near the intersection of Kipling and Chatfield and you'll find Q's Pub and Grille in Littleton, a well-established "mellow haunt" (as they affectionally call it) that is both equally welcome to new faces and refreshingly familiar to regulars.

On a recent Thursday, our team met for an early lunch, not long after the restaurant opened. Soon seats began to fill up and it was apparent that those who sat down were not strangers walking through the doors. What started out as a quiet work lunch soon turned to a steady rhythm of friendly conversation, orders being taken and an establishment that's wrapping up its third decade of existence offering "great food, friendly people and the best live music in the Littleton area."

Jack Quinlivan, a Vietnam veteran, has a passion for good times, quality food and golf and the cross-section of those three items is where the story of "Q's" begins. After managing the food and beverage operations for a handful of Denver-area golf courses for several years including Foothills and The Meadows, Jack bought the location originally known as Conville's in 1994. It's not a stretch to see where the pub got its name, and the simplicity in the moniker coincides with the cordial nature of everyone who comes into contact with "Q", along with his wife Jean who together manage the operation. To continue the "Q's" tradition and legacy, Jack's son, Trevor, has joined their team after over 15 years of working in the corporate restaurant world. Close friends of the Schossow Group, Jack and Dale's friendship dates back to many rounds played at Bear Creek Golf Club in Lakewood and The Club at Ravenna in Littleton, where both have been members since its inception.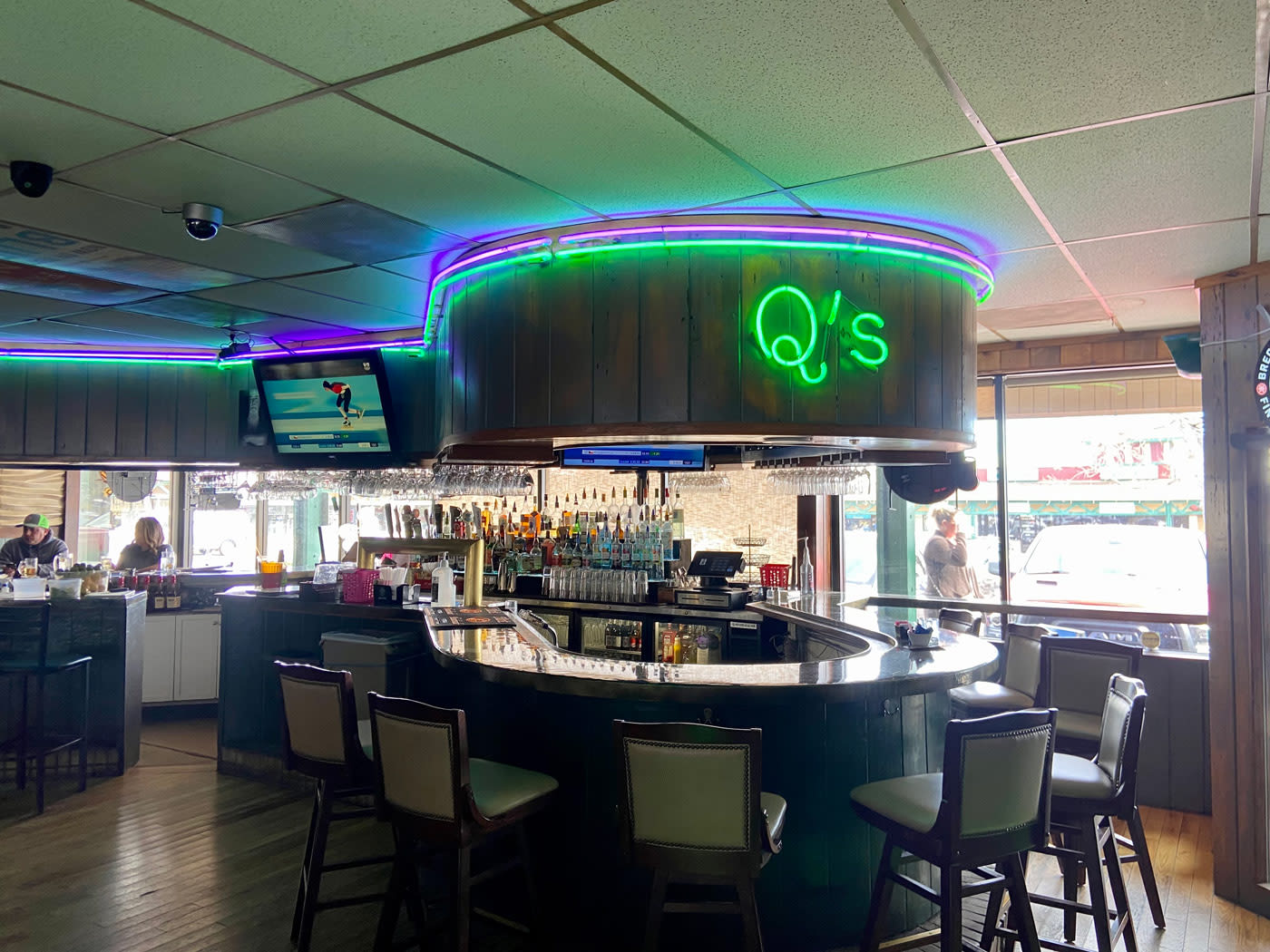 While we arrived for a quiet and early weekday lunch, the heart of Q's pub are evenings filled with live music, trivia nights and entertainment. See more photos below.
The pub is open for lunch every day and breakfast on the weekends, but our quiet lunch was in stark contrast to the heart of the pub which hosts trivia each Wednesday night (10-12 teams typically attend and compete for first, second and third place prizes) and live music every Thursday, Friday and Saturday nights. The live music played here isn't just a quiet acoustic guitar or piano man, but full-fledged bands who frequent the pub's sizeable stage, lights and sound system. A look at the upcoming music calendar shows local favorites Phat Daddy (a five member band who is one of Denver's top showroom performers), Jakarta ("Denver's hottest old school funk and R&B band"), the Steve Thomas Band (80s covers) and the Arena Rock All-Stars. The live music features just a $5 cover charge after 7pm as guests fill both the indoor and large covered outdoor seating areas to enjoy the show.

Supporting Denver's local music scene on those nights isn't just where Q's stops though. The pub supports up-and-coming artists, students and many philanthropic endeavors in giving back to the community. Most recently the Denver Jazz Club Youth All-Stars performed at Q's and helped to raise money for a European concert tour and trip to Italy. Local school bands including the Jefferson County jazz bands also can look to Q's as place to hone their chops and play in front of supportive crowds.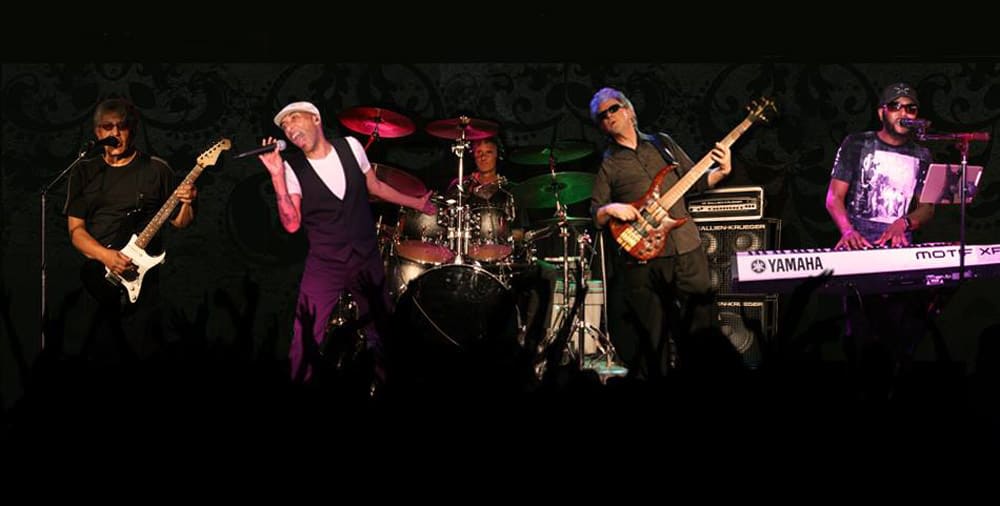 Phat Daddy is one of many popular local Colorado bands who perform at Q's Pub in Littleton

While those eventful nights happen each week throughout the year, Q's is perhaps even more well known for their twice (yes, twice) annual St. Patrick's Day Celebrations. The St. Patrick's Day celebration itself is always on March 17th, not on the closest Saturday or Sunday as other local festivities. As Jean says, "for those celebrating, it's a big enough day that they'll pull their kids out of school or do what they need to do to be a part of it."

The St. Patrick's party rivals anything found in Colorado with 20 hours in a row of planned entertainment, food and activities. Five Irish dance schools in Denver are brought in, with dancers from ages 3 and up, and the Centennial State Pipes and Drums (complete with 16 bagpipes to be heard near and far) round out the music with their annual performances at Q's. Over 500 pounds of corned beef and cabbage, homemade Shepherd's pie and Reubens are paired with the festive green beer to be enjoyed by all those who frequent the biggest Irish party in Littleton. As if that weren't enough, the pub features a "Halfway to St. Patrick's Day" celebration on September 17 showcasing its own day of Irish celebrations, festive food and more.

The nightly and yearly entertainment calendar at Q's doesn't overshadow the food, which stands out on its own and boasts many items you might expect from a traditional Irish pub and some you may not. Everyday popular items include the Reuben and a variety of burgers and sandwiches including a grilled half-pound burger over tater tots, smothered in pork green chili, cheddar-jack cheese, topped with tomatoes, green onions and a fried egg dubbed the Hangover…perhaps recommended for March 18th? On Fridays and Saturdays we highly recommend the fresh fish menu highlighting hand-cut Alaskan cod including their signature fish and chips or fish tacos with avocado, jack cheese, cabbage, tomato and chipotle aioli. On weekends, the breakfast menu is sizable with popular options of chicken fried steak, made-to-order omelets and multiple benedicts including, yes, an Irish benedict which features corned beef and sautéed onions.

It's clear that Q's Pub isn't just a normal, run-of-the-mill Irish pub. Lasting three decades in the restaurant business is no small feat, the last two years of which have forced many local operations to close amidst the uncertainties of COVID. In fact, after gearing up for St. Patrick's Day in March of 2020, Q's was forced to shut its doors only after purchasing and preparing their annual 500 pounds of holiday food. A quick pivot to take out orders and catering allowed them to keep the business running, but it wasn't the same. This year's annual revelries will serve as a celebration of years past and a look to the next decades of the restaurant and all those who frequent it.

Q's is family-owned, veteran-owned and a staple of the community, thanks to a nightly quest to serve up great food with friendly people in all that it does. And after more than 28 years, they must be doing something right.
More Photos from Q's Pub: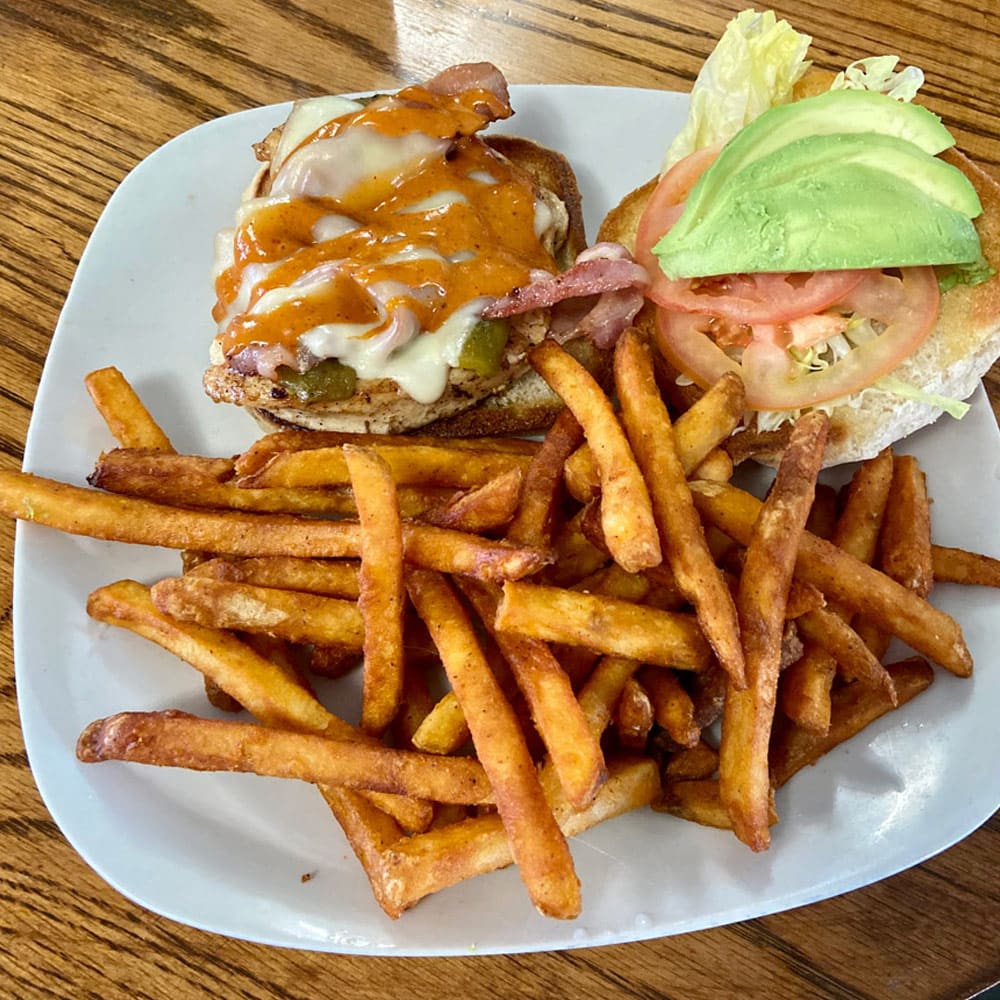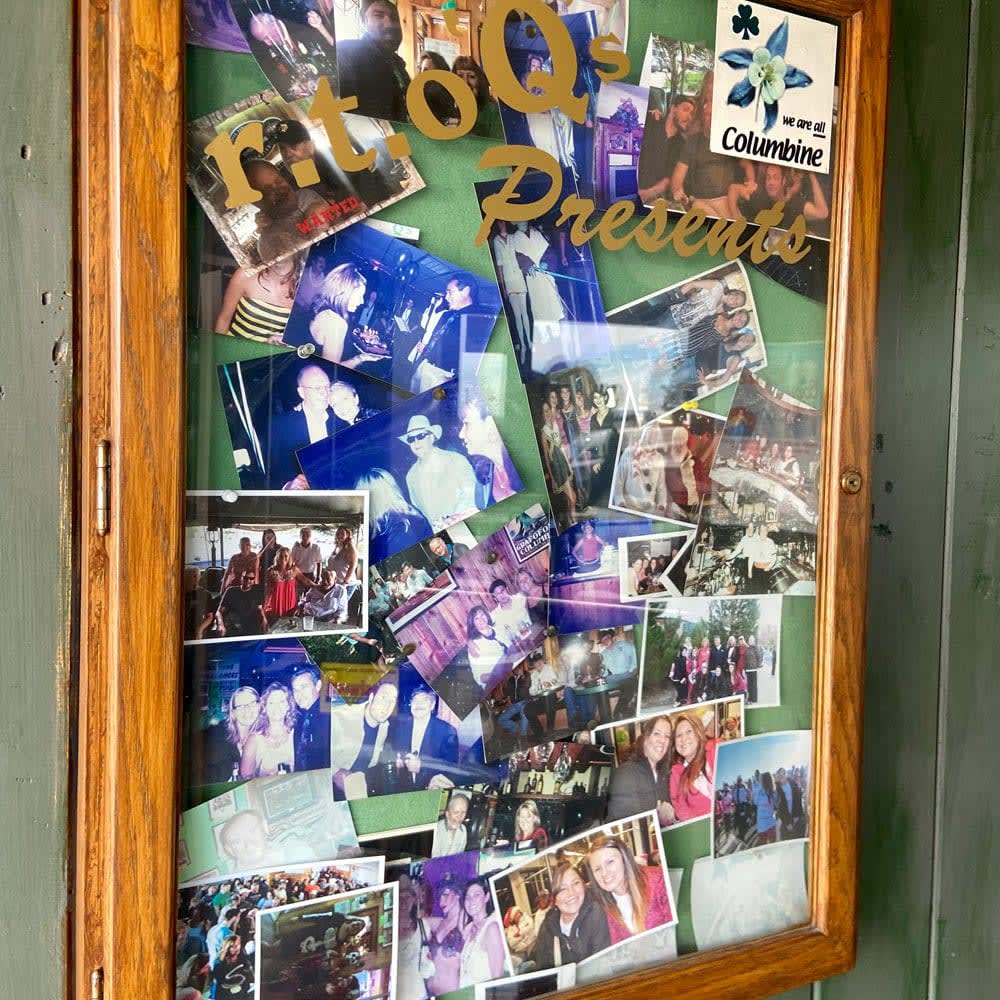 Left: We tried and loved the California Chicken sandwich, complete with fresh avocado, roasted green chili and Chipotle Aioli.
Right: A photo frame celebrates local customers and live performers who have come to Q's.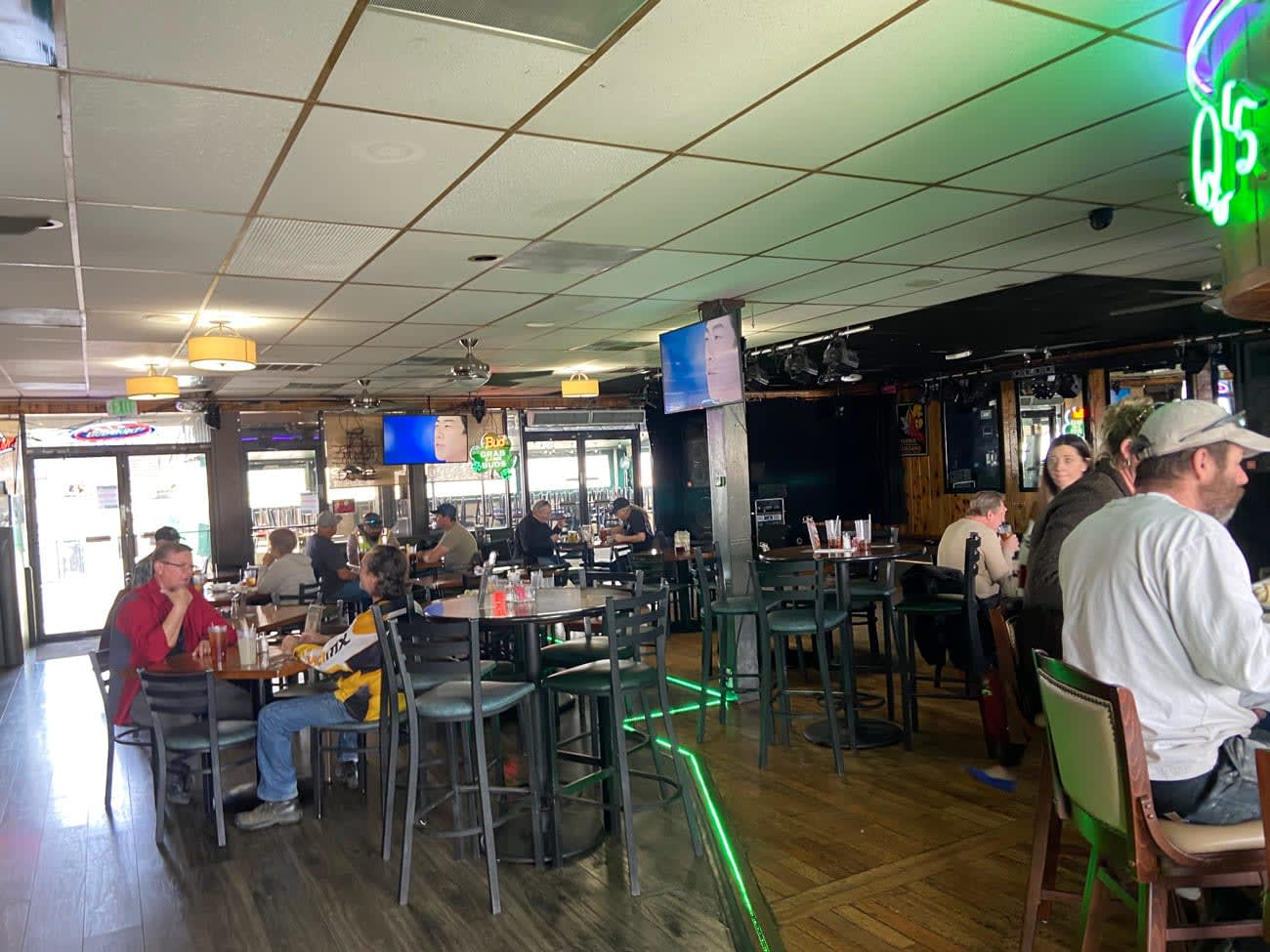 Q's Pub is located at 10133 W. Chatfield Avenue in Littleton and is open:
Monday - Thursday from 10:30am – 10:00pm
Friday, 10:30am – 1:00am
Saturday, 7:00am – 1:00am
Sunday, 7:00am – 10:00pm

Learn more at qspub.com or on Facebook at facebook.com/QsPub/
---
Follow along with The Schossow Group on Facebook and Instagram as we spotlight other local businesses in the Denver community over the coming months. We hope you will join us in supporting these small businesses and if you have a favorite restaurant, shop or Colorado small business you'd like us to feature, simply let us know at [email protected].
Schossow Group Community Spotlight:
Highlands Ranch's Gelato & Co. features handcrafted gelato made fresh everyday
Littleton's Dirt Coffee Serves More Than Just What's in the Cup
13 Adventures & Activities for an Epic Colorado Winter