13 Adventures for an Epic Colorado Winter
Create unforgettable memories surrounded by the magic of winter and the holidays in Colorado with these bucket list items...
Nowhere does winter like Colorado. As the first snowflakes begin to fall, a sense of wonder and excitement fills the crisp, Colorado mountain air. Colorado's landscapes transform into a dazzling wonderland, where powdery snow glistens like glitter in sunlight. The thrill of gliding down world-class ski slopes, surrounded by breathtaking vistas, evokes a sense of exhilaration like no other. Cozy evenings spent by crackling fires, sipping hot cocoa, and watching the snowfall outside create a deep sense of comfort and contentment.
The warmth of friendly gatherings and the thrill of winter adventures, from snowshoeing through pristine forests to ice skating in the lights of the city, bring people together in a celebration of nature's beauty and the pure joy of the winter season in our state.

Here are 13 adventures not to miss this winter:
1. Embrace the Holidays at the Broadmoor
Beginning in November, experience the enchantment of the season as the Broadmoor resort undergoes a wondrous transformation, bedecked with millions of shimmering lights and captivating festive adornments. Offering a plethora of events, entertainment, and exclusive offerings, the Broadmoor encourages you to unwrap the present of unforgettable moments with them. Don't want to stay the night? The Broadmoor offers event tickets without having to book a stay, all available online. 

The Broadmoor stuns in holiday lights and cheer. Offering several events throughout the holiday season, The Broadmoor is not to be missed. Photo courtesy of broadmoor.com.
2. Visit Santa at The North Pole
Step into this enchanting vintage amusement park in the heart of Colorado Springs, Colorado, and you'll find Santa's Workshop, the abode of the jolly man himself. Here, the spirit of Christmas thrives year-round but is extra spectacular in the winter. Located at an elevation of 7,500 feet above sea level, The North Pole-Santa's Workshop sits at the base of Pikes Peak, offering visitors refreshing mountain air and sweeping panoramic vistas of Colorado Springs and the Pikes Peak Region.

3. Experience ICE! At The Gaylord Rockies
There's no more exceptional way to embrace the holiday spirit than by uniting your loved ones for a Christmas celebration at Gaylord Rockies Resort & Convention Center in Aurora, Colorado. Step into a holiday extravaganza unlike any other as you meander through the colossal ICE! exhibit November 17, 2023 - January 1, 2024, showcasing the beloved A Christmas Story, whiz down exhilarating frozen slides, and explore breathtaking tunnels. Tickets always available online.
4. Ski World-Class Slopes in Vail
Nestled in the heart of the Rocky Mountains, Vail boasts world-class slopes and breathtaking mountain vistas that attract enthusiasts from around the globe. With its legendary backcountry terrain, meticulously groomed runs, and a charming European-inspired village, Vail offers a ski paradise for all levels of skiers and snowboarders.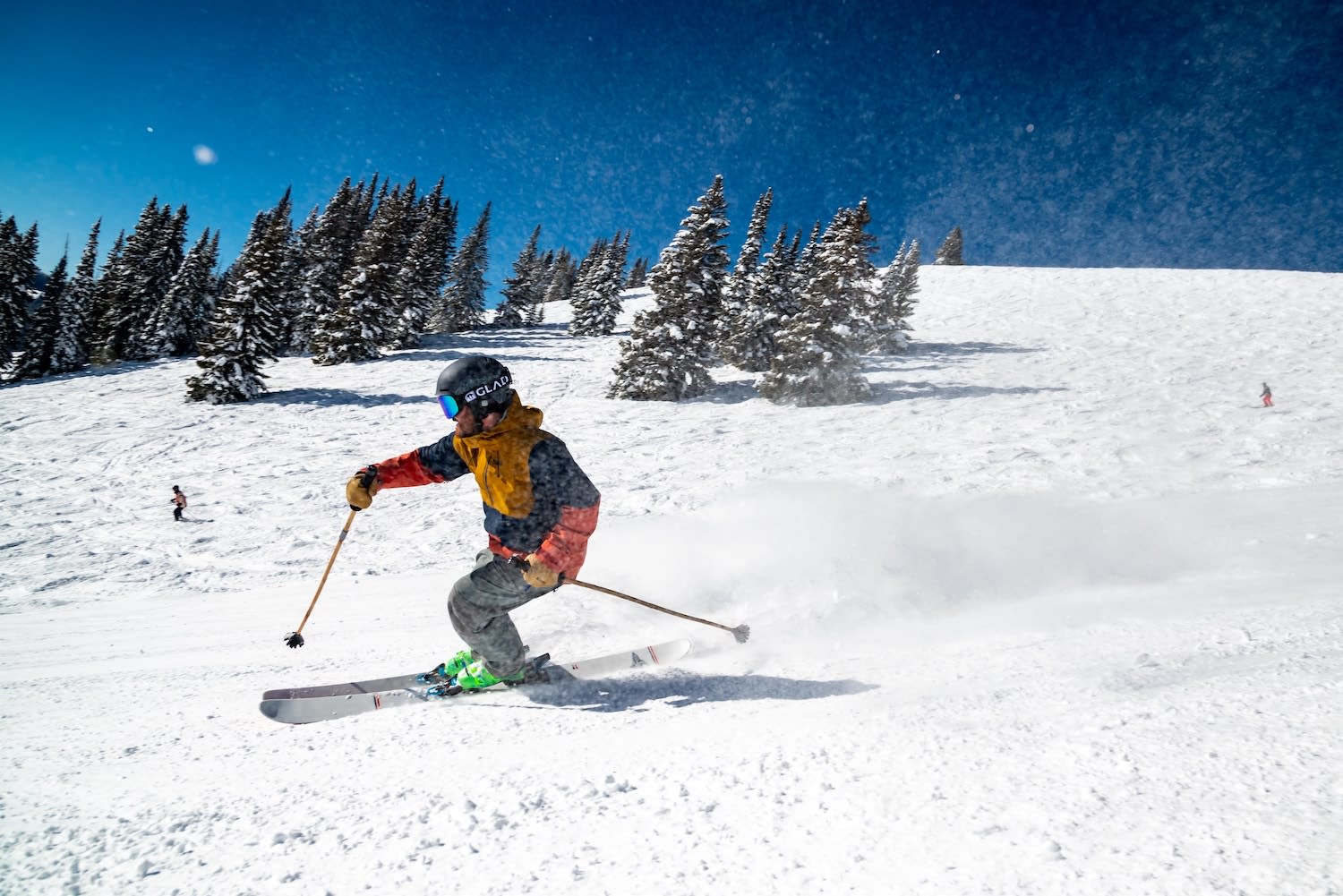 Winter in Colorado is synonymous with skiing in Vail. With a run for all experience levels, a vibrant village and dining options Vail hits on all levels.
5. Shop and Dine at Cooper Creek Square in Winter Park
Cooper Creek Square stands as Winter Park's sole open-air dining and shopping hub, uniting nine restaurants and eleven shops under a single roof, complete with complimentary covered parking. The essence of a mountain town's conviviality comes alive at Cooper Creek Square. Our shops provide a welcoming environment for perusing, interacting with our knowledgeable and enthusiastic staff, and discovering unique treasures. At Cooper Creek Square, you'll encounter an array of dining options. Explore offerings of fresh, locally sourced cuisine, with choices that cater to gluten-free and vegan preferences.
6. Celebrate 10 years of Ice Skating in Downtown Denver
If you haven't had the pleasure of ice skating in Downtown Denver, now is the perfect opportunity to do so! This year marks the 10th anniversary of the Downtown Denver Rink at Skyline Park, where you can enjoy free ice skating seven days a week from November to February. All you need to do is bring your own skates or rent a pair, and you can join the ranks of nearly half a million individuals who have glided across the rink in the past decade. Conveniently situated near Denver's iconic 16th Street, it's an ideal location for enjoying a delightful meal and refreshing drinks before or after your skating adventure!

Winter time is prime time for Ice Fishing in Gunnison. Photo courtesy of gunnisoncrestedbutte.com/.
7. Go Ice Fishing at Blue Mesa Reservoir in Gunnison
The Gunnison valley stuns in the summer and the winter. The ice fishing season on Blue Mesa typically commences in early December, gaining momentum as safe ice forms primarily on the eastern side of the reservoir near the Lake City bridge. During the initial weeks of the ice season, anglers can enjoy highly productive fishing, as unpressured trout are drawn to the Gunnison River inlet. This time of year offers a chance to catch various Blue Mesa species, with a particular emphasis on brown and rainbow trout. As the season advances, the safe ice (measuring at least 4 inches) gradually extends westward throughout December and January. By the start of the new year, anglers can usually anticipate favorable ice conditions reaching well into the Iola basin, providing expanded opportunities to target mackinaw, perch, kokanee, and continued abundance of brown and rainbow trout. Blue Mesa provides thousands of fishing spots, a variety of gamefish, stunning views, and relatively easy access. To be enjoyed by both beginners and seasoned ice fishers, Blue Mesa lends a variety of opportunities to learn and grow in the sport.
We've also put together 10 Winter Activities specifically in Gunnison and Crested Butte.
If you're seeking the thrill of the slopes without skiing or snowboarding, snow tubing might be the perfect choice for you! Keystone's Adventure Point is equipped with a cutting-edge conveyor lift, night tubing lights, and six lanes of varying steepness. This exhilarating activity is suitable for individuals aged four and above. All you need to bring is yourself and some cozy attire, and get prepared to have a fantastic time as you slide down the mountain, filled with laughter and excitement!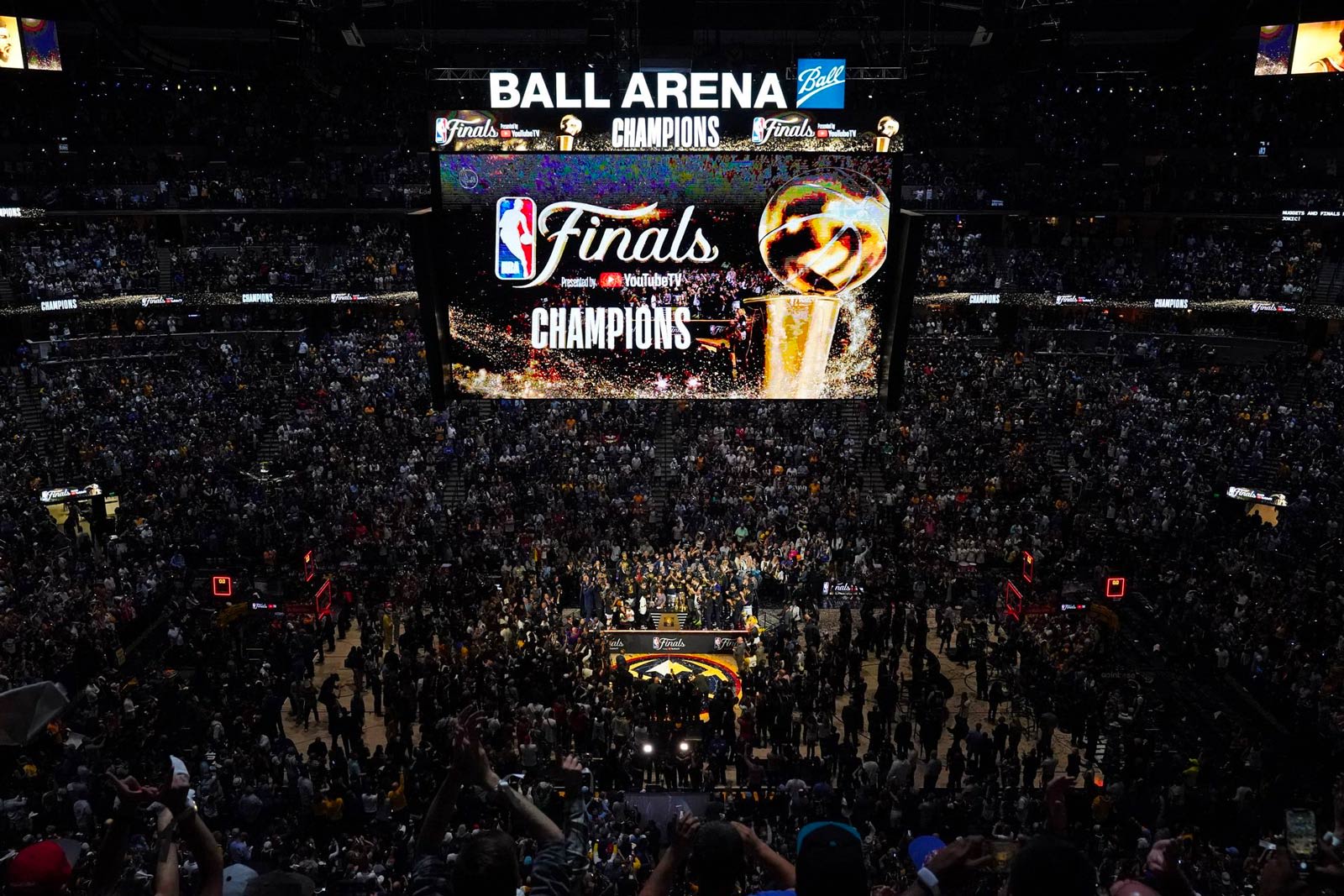 The Nuggets celebrated their first NBA Championship at Ball Arena in June. Photo courtesy Reuters
9. Catch the Nuggets and Avalanche at Ball Arena
Denver's beloved Broncos are not holding form the last several years after they held the second-highest winning percentage in all of sports during the 32 years from 1984-2016 and, while Coors Field ranks as one of the best ballparks in the world to catch a game, the Rockies haven't sniffed the playoffs in several years either. However, Colorado sports fans take pride in the winter time. The Colorado Avalanche won the 2022 Stanley Cup Finals and the Denver Nuggets captured their first NBA title in June 2023. These teams rank as some of the most exciting to watch in their respective sports and play nearly nightly from October - May at Ball Arena in downtown Denver. Learn more at nuggets.com and coloradoavalanche.com
10. Explore Rocky Mountain National Forest by Snowshoe
Rocky Mountain National Park is renowned for its extensive network of hiking trails and enchanting alpine lakes. While these trails are typically frequented during the summer, don't be discouraged by the snow when it comes to relishing the breathtaking mountain vistas. All the lakes remain accessible through snowshoeing trails, offering a range of difficulty levels. For a relaxed outing suitable for the whole family, consider exploring Bear Lake, Sprague Lake, or Lily Lake. For a more extended adventure, venture onto Trail Ridge Road. This alpine highway closes during the winter months due to heavy snowfall, creating an excellent opportunity for snowshoeing and enjoying the winter wonderland of North Rocky Mountain National Park.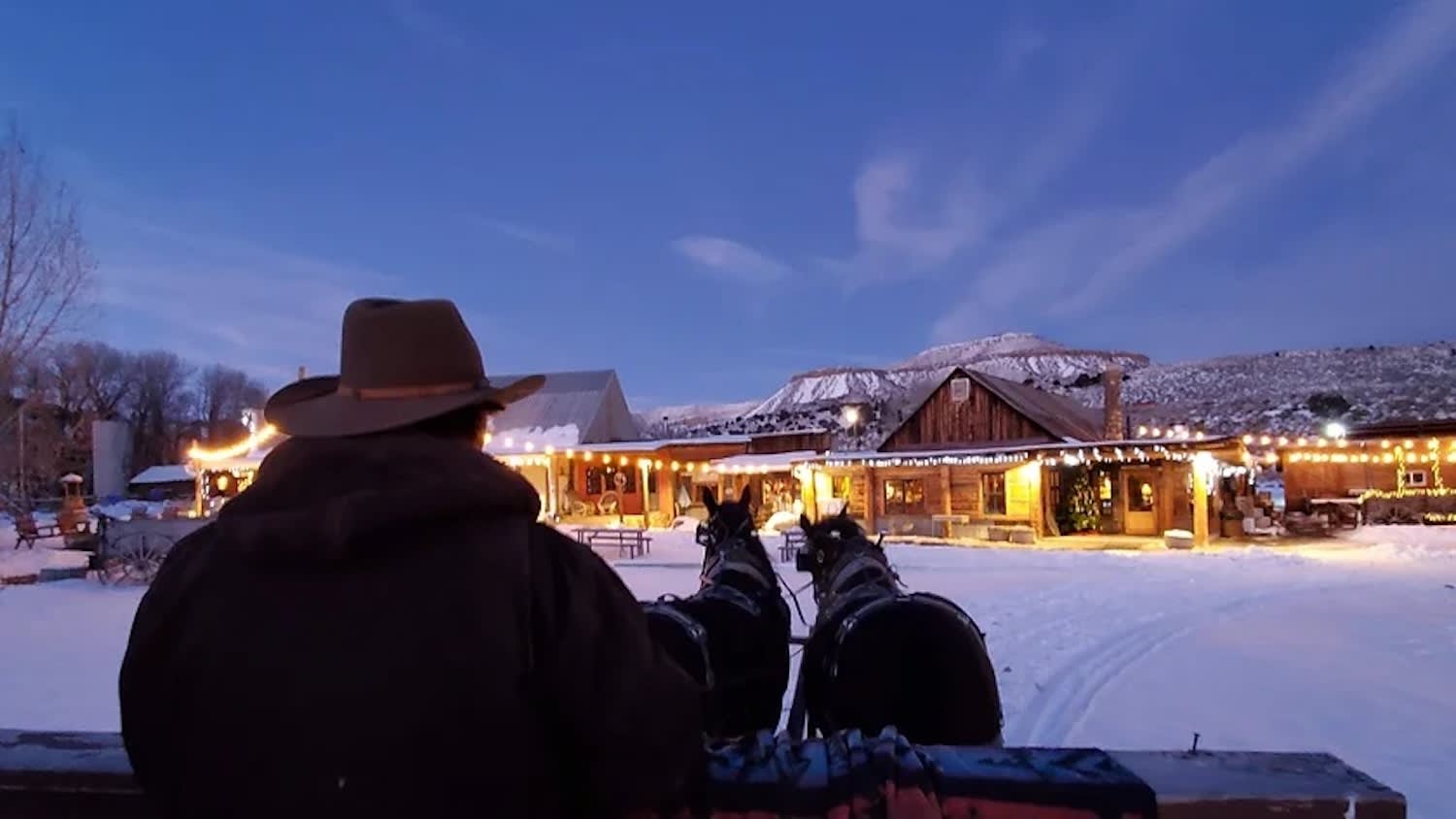 With crisp mountain air, a canopy of star-lit skies, and a memorable horse-drawn sleigh ride at 4 Eagle Ranch just outside Vail, makes winter come alive. Photo courtesy 4eagleranch.com
At 4 Eagle Ranch just outside Vail, a delightful experience awaits, featuring crisp mountain air, a canopy of star-lit skies, and a memorable horse-drawn sleigh ride. Upon your arrival, you have the option to savor a warm beverage and a hearty bowl of chili before wrapping yourself in cozy blankets for an enchanting sleigh ride beneath the vast, twinkling night sky. Upon your return, you'll be treated to an authentic ranch dinner showcasing some of the finest cuisine this side of the Continental Divide. Sleigh Ride Dinners commence on November 22 and can be booked online.
12. Explore the Nordic Trail at Dos Rios In Gunnison

Offers groomed trails for those passionate about Nordic skiing. With an updated grooming report on the 5 trails skiers have the information they need for an invigorating adventure. Gunnison Nordic Club, a non-profit organization, meticulously maintains cross-country ski trails across the Gunnison region. This includes well-known destinations such as the Hartman Rocks trail system, Van Tuyl Ranch, Western's Practice Field, Jorgensen Park, and Dos Rios Golf Course, offering a total of 45 kilometers of Nordic trails for public enjoyment. Enjoy Gunnison Colorado all year long - see our listings in Gunnison Valley.
13. Visit the Royal Gorge by Train
Embark on a memorable winter adventure by visiting the Royal Gorge. The Royal Gorge Route Railroad offers guests a remarkable opportunity to behold 360-degree vistas of some of the nation's most awe-inspiring sights. For the little ones and those young at heart, don't miss the Santa Express Train—an enchanting holiday-themed journey that leads you to Santa himself. While aboard the train, you can also check off your holiday shopping list at the retail store, join in the festive spirit with Christmas carol sing-alongs, and indulge in hot cocoa, delectable treats, and a locally sourced meal.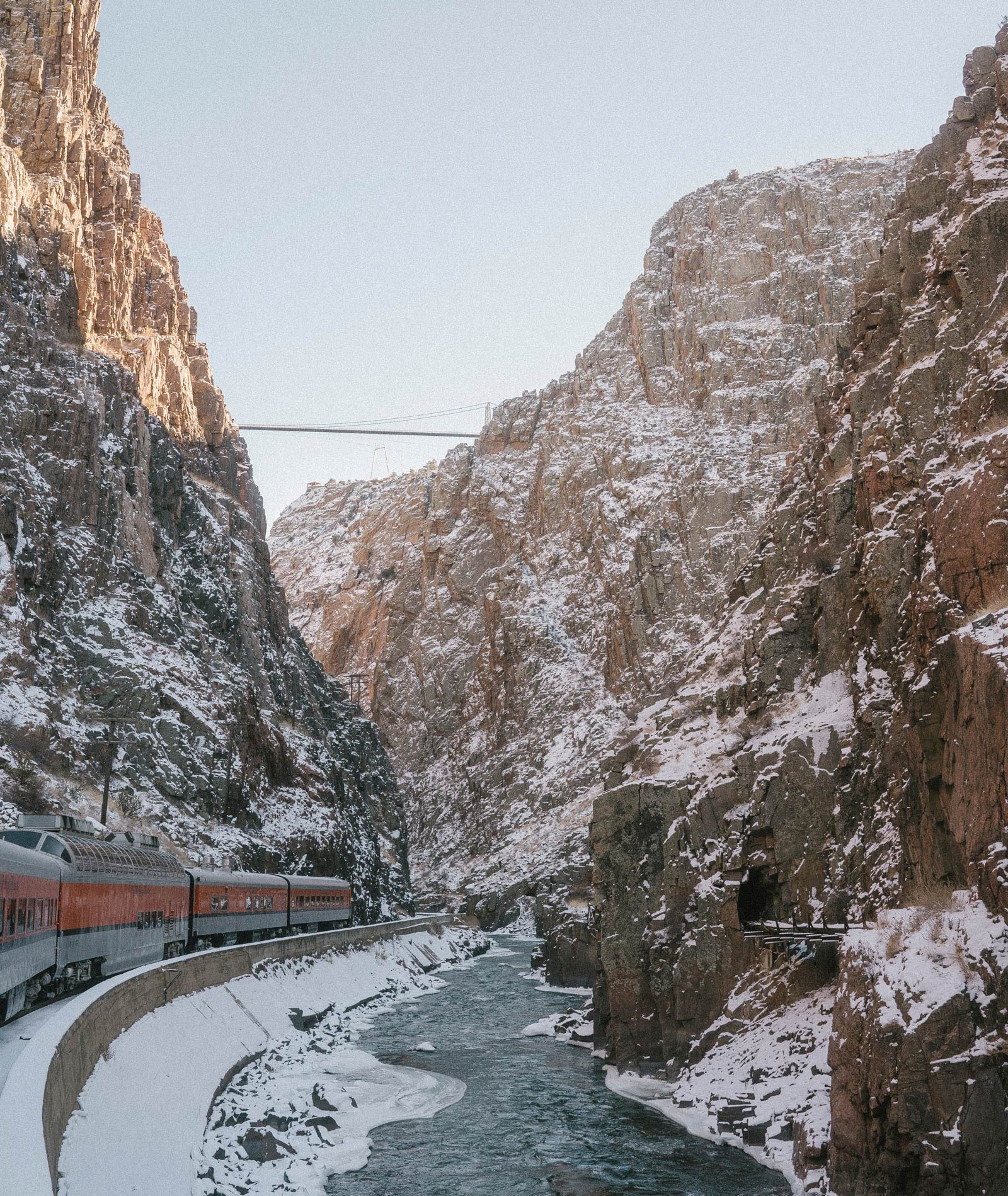 With so many incredible adventures time is of the utmost importance this winter! Whether a relaxing train ride, snow tube or glamorous party is your speed or if you are looking to speed down Colorado's epic mountains we've got you covered. Grab your favorite winter coat, friends and family and make the most of our most spectacular season!
---
If you're curious about buying or selling in Colorado, give us a call today and we'll go to work for you. Learn more about our team here or search all Colorado homes for sale.