10 Winter Activities in Gunnison and Crested Butte, Colorado
Local activities for the whole family in the Gunnison Valley during snow season
The Schossow Group
January 1, 2023
Located on the Western Slope of Colorado, Gunnison and Crested Butte offer an abundance of outdoor activities, leisure and beauty in every Colorado season. With a rich history in ranching, agriculture, mining and outdoor recreation Gunnison is the perfect blend of old and new Colorado.
Above: April Stahl of the Schossow Group and husband A.J. ski at the beautiful Crested Butte Mountain Resort.
We at the Schossow Group of course love the year-round atmosphere and recreation in the Gunnison Valley and are proud to feature a collection of homesites at Tomichi Creek among our Gunnison real estate. Below are our top 10 activities are sure to make your Gunnison winter season one to remember. You can also view our favorite summer activities in Gunnison.

1. Skiing and snowboarding in Crested Butte Ski Area. Crested Butte Mountain Resort (CBMR) is known for its steep skiing, but skiers of all abilities will find runs to experience. Crested Butte Mountain Resort is on the Epic Pass making it a great option for families.
2. Gunnison and Crested Butte, Colorado provide several opportunities for adventures while Snowmobiling. Many of the trails allow you to explore wilderness and the beauty that only Colorado can provide. With three separate trail loops there is something for everyone. Want to explore the terrain in a more old-fashioned way? Howlin Husky Ranch offers dog mushing tours in the Gunnison backcountry. For approximately two hours you are immersed in mountains, dogs, solitude and snow.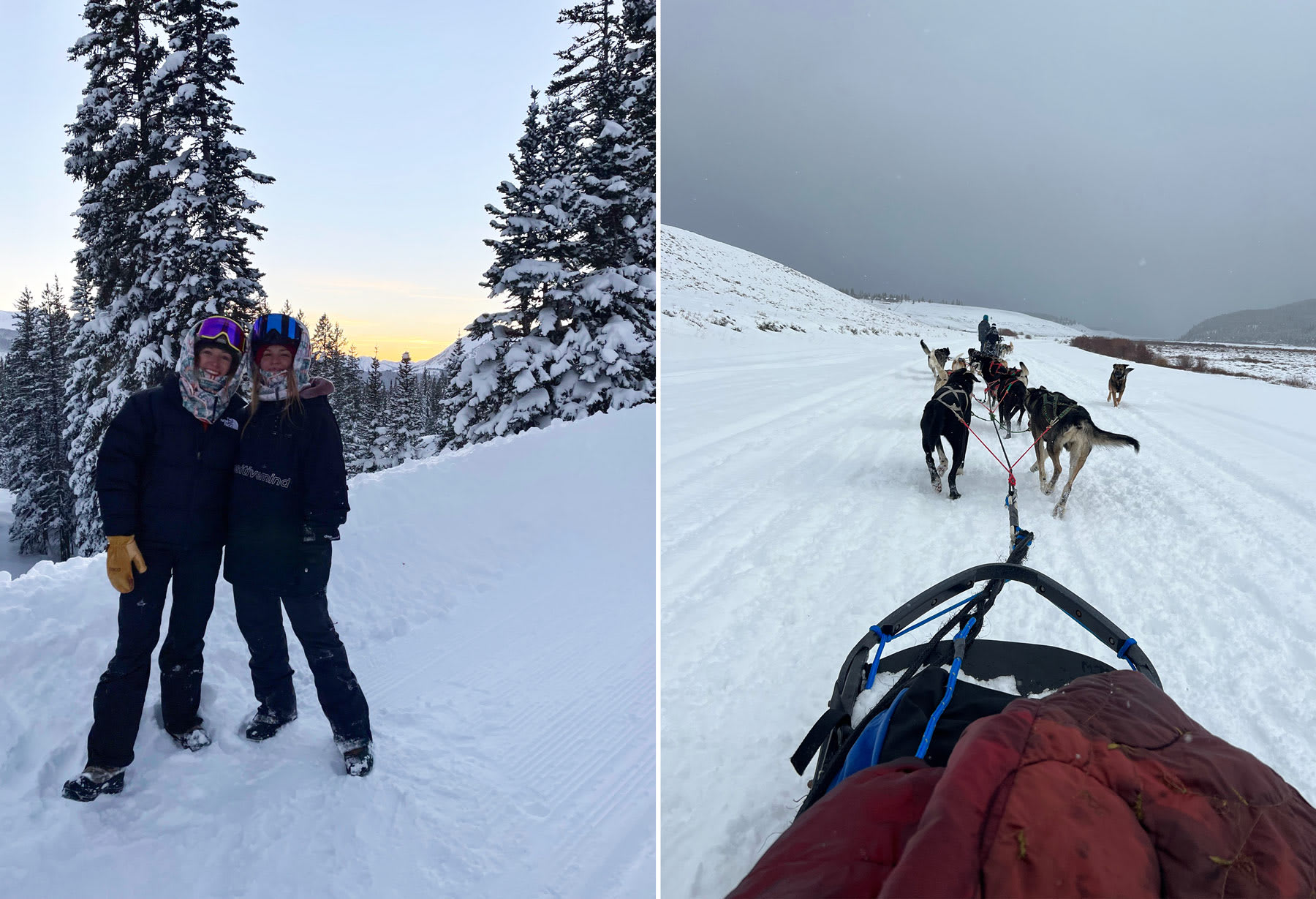 Left: Hunter Lucas of the Schossow Group. Right: Dog mushing tours at Howlin Husky Ranch (photo via April Stahl, Schossow Group)
3. The Black Canyon of Gunnison National Park welcomes close to 430,000 visitors a year, but fewer visitors during the winter. Park entrance is free during the winter unlike the Summer where the normal park fee of $25 applies. The snow-covered boulders that line the banks of the river, making the rushing water stand out in dramatic fashion against the neighboring cliff walls is truly magnificent (and a tad cold) to see during the winter months.
4. The Nordic Trail at Dos Rios offers groomed trails for those passionate about Nordic skiing. With an updated grooming report on the 5 trails skiers have the information they need for an invigorating adventure.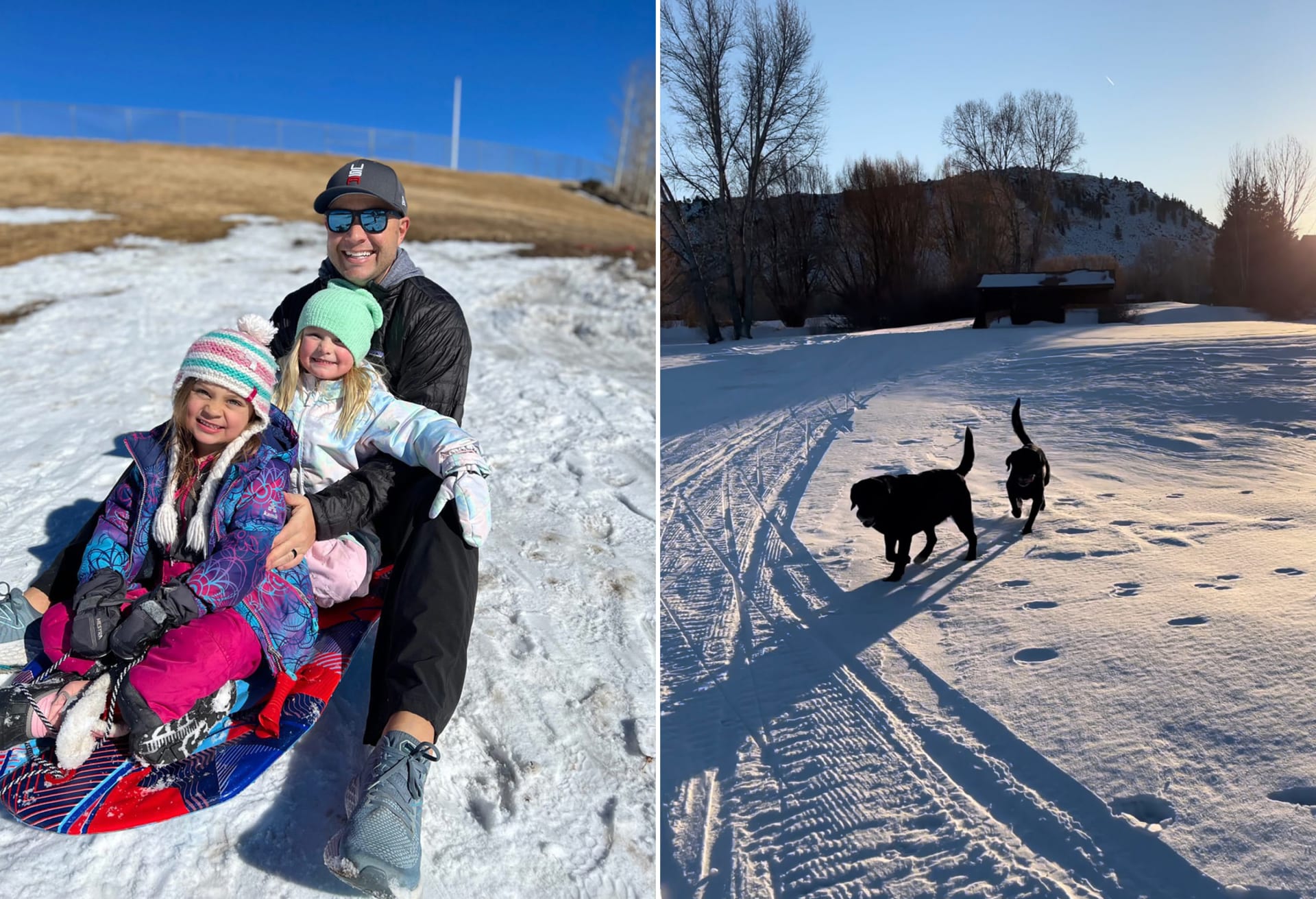 Left: Nick Schossow of the Schossow Group and family enjoy sledding in Gunnison. Right: The Dos Rios Nordic Trail (photo via Hunter Lucas, Schossow Group)
5. Snowshoeing at The Black Canyon of Gunnison National Park is the perfect way to see all the beauty of the park and get a bit of exercise. The South rim drive is plowed to the visitor center at Gunnison Point making it easy to park and enjoy the wide and gentle 6 mile (12 mile round trip) route beyond the visitor center. Guests can even borrow a pair of snowshoes from the visitor center for no charge (on a first come, first served basis.)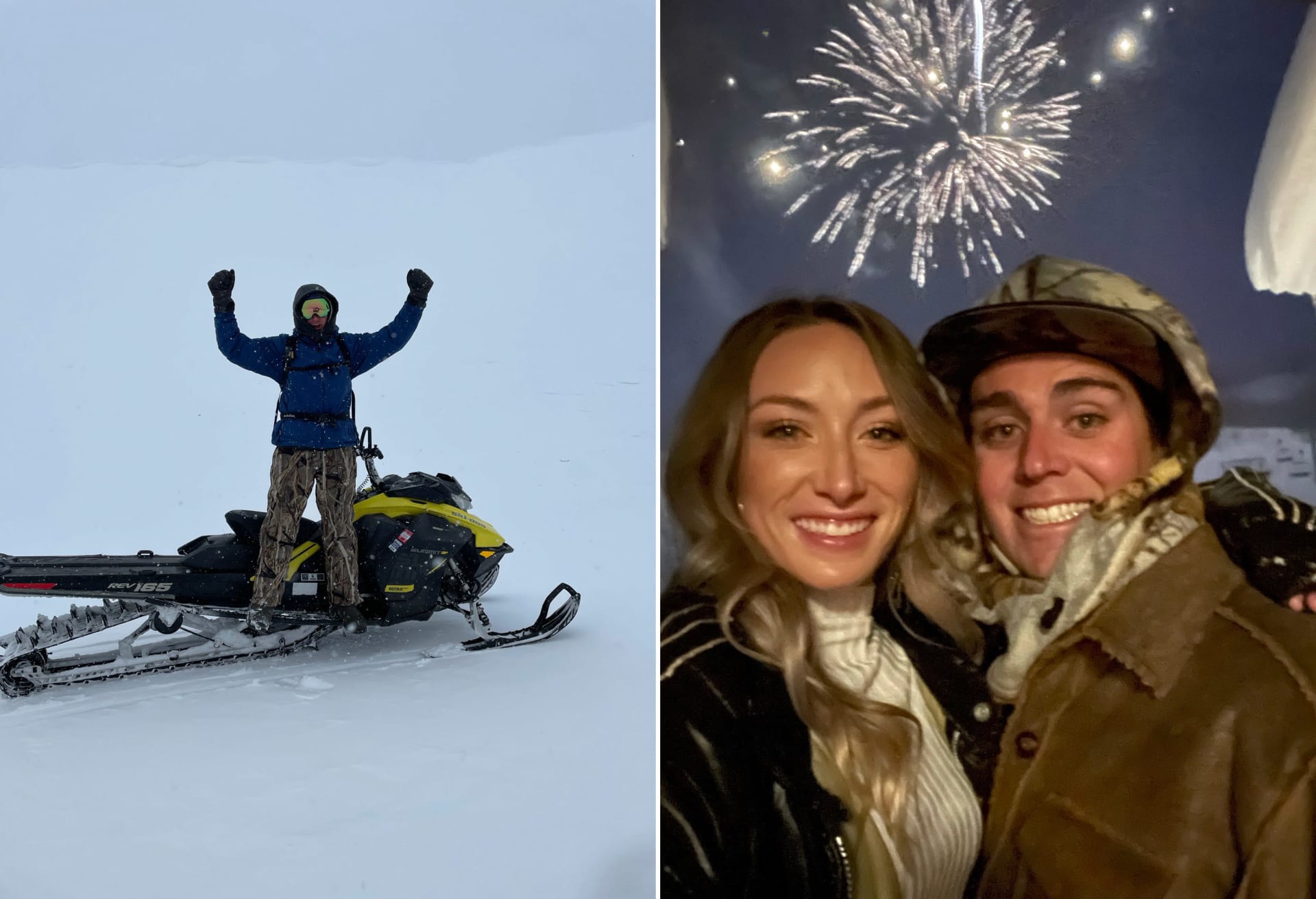 Left: Gunnison provides plenty of space to explore via snowmobiling (photo via Hunter Lucas). Right: Hunter Lucas enjoys the New Year's Eve fireworks at Mount Crested Butte.

6. Ice Fishing Blue Mesa Reservoir Blue Mesa provides thousands of fishing spots, a variety of gamefish, stunning views, and relatively easy access. To be enjoyed by both beginners and seasoned ice fishers, Blue Mesa lends a variety of opportunities to learn and grow in the sport.
7. The Jorgensen Event Center includes an indoor rink, outdoor ice rink, and a frozen pond for public skating near downtown Gunnison. The outdoor pond is free for daily public use during the winter season and equipment rentals are available.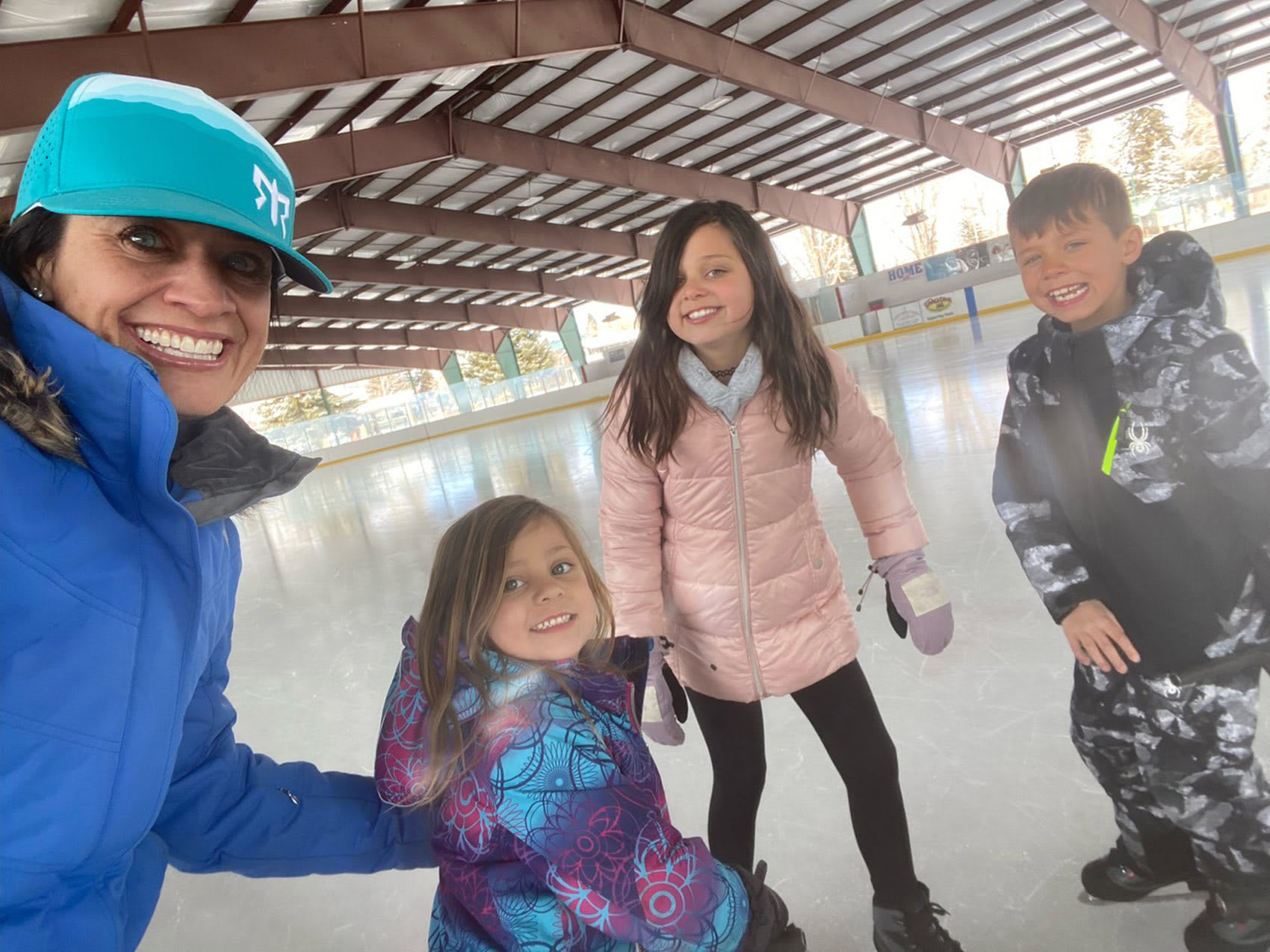 Above: April Stahl and her children skate on the outdoor rink at Jorgensen Event Center in Gunnison. The outdoor rink is open in the winter while the indoor rink is open year round.
8. The Crested Butte Museum offers programs and tours that preserve, share, and celebrate the history and traditions of Crested Butte and the Gunnison Valley. Explore their collection of items dating back to 1880 focused on local mining, ranching and more. The museum store provides local art works and unique gifts as beautiful as the location year round. You can even rent the museum for a special event or gathering!
9. Elk Avenue in Crested Butte offers world class shopping and dining all while enjoying the colorful buildings and history that the valley has to offer. Visit the Creative Art District to see hand-painted buses, galleries, and get acquainted with the local artists. Come in March and you can even enjoy an Elk Avenue Walking Tour to learn about the history of the buildings, mining history, and stories from the community.
10. Visit Montanya Distillery With a tasting room on Elk Avenue, this female founded and owned rum distillery is changing the way people think about rum. Using only the finest ingredients -including water from the Rockies-visitors can get a break from the cold and warm themselves from the inside out. Tasting room hours vary, distillery tours are by appointment only.

Rich in history, art, scenery and a bit of rum - Gunnison, Colorado is a winter wonderland tucked in the mountains that delivers adventures and memories waiting to be made.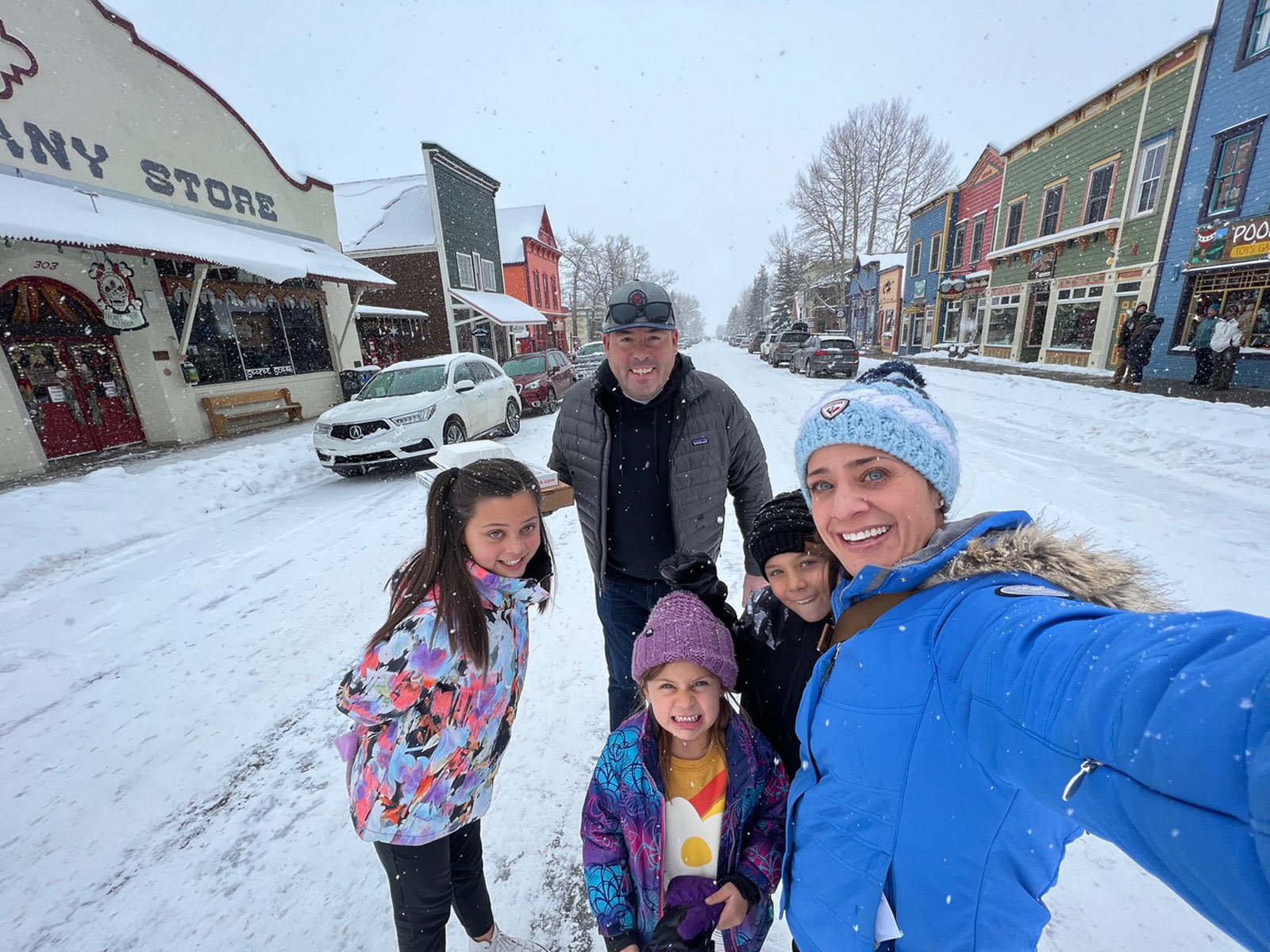 Above: The Stahl family enjoys a beautiful winter day on Elk Avenue in Crested Butte.
---
View our featured homes for sale in Gunnison, Colorado.
If you're curious about buying or selling in Gunnison or anywhere in Colorado, give us a call today and we'll go to work for you. Learn more about our team here or search all Colorado homes for sale.
More from the Schossow Group: