The Mile High Provides Low-Key Date Spots with Top Notch Beer
5 Date Spots in the South Denver Metro Area including Littleton, Centennial and Lone Tree
August 3, 2021
As the summer draws to a close and kids head back to school parents may have an opportunity to plan a night out or an afternoon away. The Mile High City suburbs do not disappoint when it comes to local breweries and trend setting food trucks and are home to several outstanding low-key spots perfect for reconnecting with your partner after a long day.
In a quiet section of Lone Tree some of the best local brews are found. Lone Tree Brewing Company offers a no fuss environment with the top selling Mexican Lager around, nightly local food trucks and a variety of events. Stop by after hiking The Bluffs Regional Park and you have yourself an epic date day.
If you prefer a non-food truck route, Blue Spruce Brewing in Centennial and Littleton provides a full menu of hand crafted bar food in addition to a variety of tap beers. An order of green chili fries and the Serrano Sunrise Chili Ale are sure to be a conversation starter and a repeat order.

Above: The Green Chili Fries at Blue Spruce (photo via Blue Spruce website)
Whether it's an IPA or a Porter that quenches your thirst, The Farm House Restaurant at Breckenridge Brewery in Littleton has both. Offering seasonal activities, farm-to-table menu items and a rustic atmosphere, Breckenridge has it all in one spot (also great for kids if your sitter cancels last minute). If you can't make up your mind, they offer beer flights and apps to share making this spot just right for date night. If you have a free day and want to take a stroll, Hudson Gardens is not far and provides a scenic walk to unwind together before indulging in that beer flight.
Looking for something more trendy and artistic? Grist Brewing Company took it all a step further and introduced RARE in Lone Tree. Offering craft cocktails and beer RARE by Grist showcases the art of drinking. With dazzling creative displays and a Great Gatsby vibe you'll never run out of things to talk about. When it comes to food, their menu is evolving but limited. No need to worry though as Rio Grande Mexican Restaurant is right next door, literally. After a few beers or craft cocktails you can walk right to Rio and have a killer Mexican meal!
Often, you hear rumblings that the suburbs don't have a ton to offer and that you need to be IN the city to enjoy the best in food and beverage - well the suburbs of Denver beg to differ. These local low-key spots offer top notch beer, cocktails and eats. Shoot your sitter a text and get your next date night set!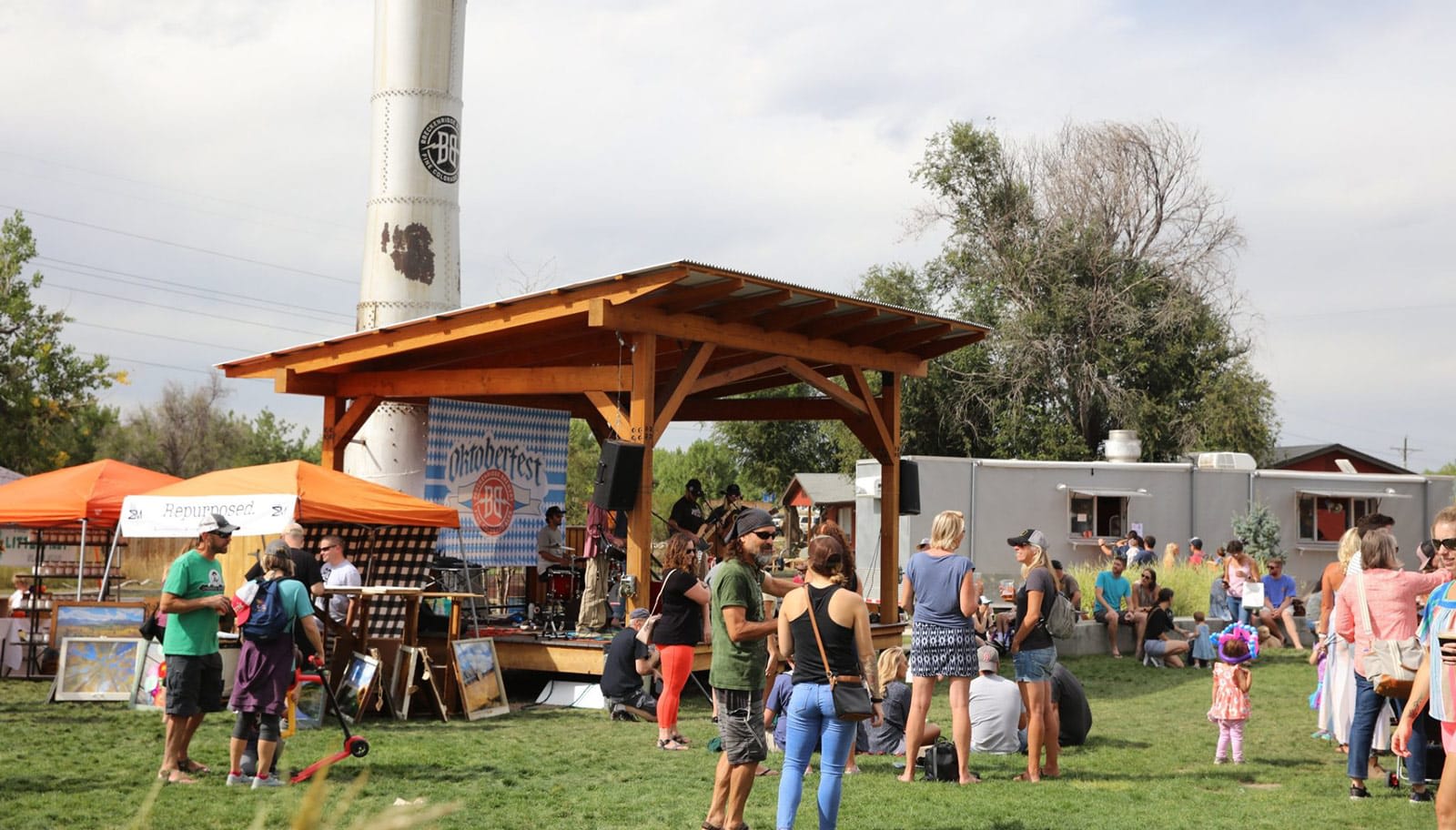 Above: In addition to its brewery and restaurant, Breckenridge Brewery also features seasonal events in Littleton (photo via Breckenridge Brewery's Facebook page)
Whether you live in Colorado or are looking to relocate, our team of Colorado real estate experts (and native Coloradoans) stands ready to assist you and guide you in your home buying or selling process. As part of Compass, the #1 brokerage in market share and sales volume in Denver (source, REColorado), we are equipped, connected and prepared to get you the most value for your current home and help guide you to a successful outcome in your next home.
If you're curious about buying or selling in Colorado, give us a call today and we'll go to work for you. Learn more about our team here or search all Colorado homes for sale.
More from the Schossow Group:
Photo at top of Lone Tree Brewing Company via Lone Tree Brewing Company's Facebook Page.