Compass Tops Douglas County in Luxury Real Estate in 2022
Schossow Group of Compass Represented Several Top Home Sales, including 6 of the top 100
The Schossow Group
December 28, 2022
It did not take Compass long to rise to the both the top of the Colorado real estate industry and the national market. After just a couple of years, Compass became the #1 brokerage in Metro Denver in sales volume surpassing established brokerages that had been known around Colorado for decades and has remained there for three consecutive years. In 2022, Compass also became the #1 brokerage in the country and was named a Fortune 500 Company. With those accomplishments, and built on the foundation of placing advanced technology and tools at the fingertips of its growing number of agents (now 25,000+ nationally) to serve their clients, it would come as no surprise that Compass now leads Douglas County in luxury real estate (home sales of $2,000,000+).

Douglas County currently has a population of nearly 375,000 (source U.S. Census 2021) and is among the healthiest and fastest-growing communities in the country and includes all or part of cities such as Littleton, Highlands Ranch, Castle Pines, Castle Rock, Lone Tree, Roxborough Park, Parker and more. According to a press release by Compass, their agents accounted for over $88,000,000+ in total closed volume in the luxury space in 2022, good for an impressive 13.3% market share.

The Schossow Group became one of the first in the state to make the switch to Compass in 2019 and has benefitted from its technology, network, tools and support. "Compass has given us access to resources that we could have only ever hoped for before and their continued dedication to our agents allows us to deliver the best possible solutions for our clients throughout all phases of a transaction and beyond. We're proud to be a part of the Compass Denver team," Nick Schossow says.

Among over 6000+ Douglas County home sales in 2022, The Schossow Group represented 4 of the top 50 transactions and 6 of the top 100.

Five of the Schossow Group's top sales included beautiful homes at Ravenna in Littleton, where the team has been involved since the start of construction over 15 years ago. Of 243 original homes and homesites, the Schossow Group has represented the sale of more than 140 of them through the years and continues to feature a variety of inventory and new construction going into 2023.

7948 Dante Drive (also pictured above) at Ravenna, sold for $3,950,000 in 2022, is a 4 bed, 6 bath timeless contemporary masterpiece with over 6,000 finished square feet. The open floor plan features wall to wall windows capturing every view possible of Ravenna's iconic red rocks and scenery including 16' according doors opening up to spacious outdoor living with a linear fire pit and custom outdoor kitchen.

7792 Raphael Lane, a new custom home sold for $3,300,000, is a mountain-modern home overlooking the 10th fairway at Ravenna. Designed by Chris Holzwart and built by Sterling Custom Homes, the home captures breathtaking views and provides a private, relaxed experience indoors and out – qualities that the Schossows say are paramount to what prospective home buyers are looking for in the area.

Above: 10555 Leonardo Place, sold in 2022, shown as a rendering and as a completed home. The Schossow Group of Compass represented the sale, one of the top in Douglas County in 2022.

10555 Leonardo Place, also sold for $3,300,000 and was built by Jacob Custom Homes and finished construction in 2022. The 4-bedroom, 7-bath home is located on one of Ravenna's last remaining custom homesites, a gem of a location with unforgettable views of the city, golf course, Dakota Hogback, and foothills. In addition to the retreat-style home, the oversized 4 car garage includes with golf cart storage (common for homes at Ravenna) and a heated driveway.

7775 Raphael Lane, sold for $3,000,000 in 2022, and features a beautiful 4896 SF custom home tucked on just over 1/2 an acre tucked amidst the natural scenery at Ravenna. In addition to the main level luxury living that has become popular at Ravenna, the lower level is equally impressive with an additional two junior ensuite bedrooms, family room, pub-style bar, walk-in wine cellar, game room, built in storage, powder bathroom, and a home gym.
7590 Raphael Lane (sold for $2,537,500) in Ravenna and 9617 Shadow Hill Circle (sold for $2,475,000) in Lone Tree also both make the Top 100 Douglas County home sales in 2022, both represented by The Schossow Group.
Included in the dominance by Compass in the Douglas County luxury market, Compass agents also represented the top three home sales in 2022.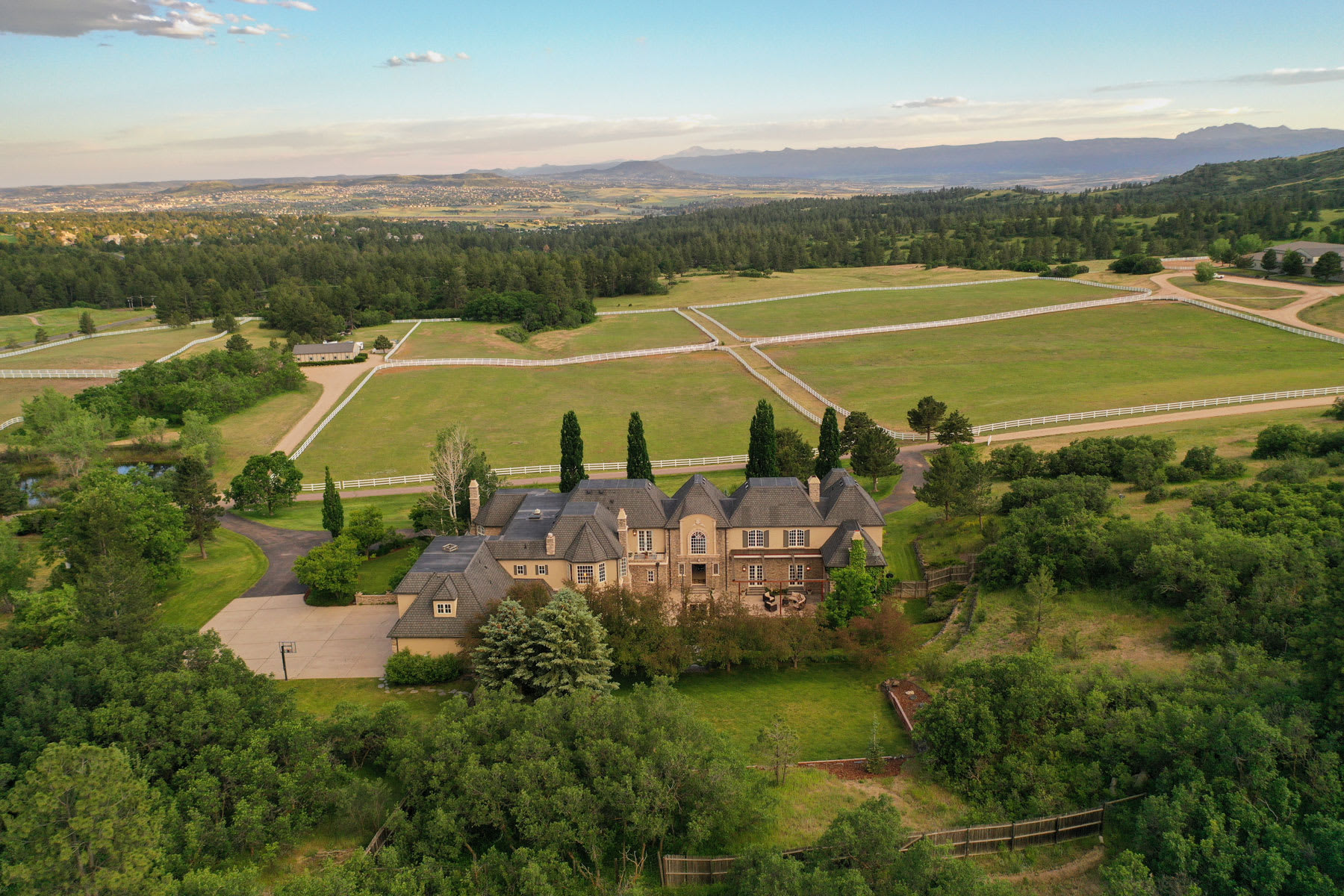 Above: 7007 Daniels Park Road, sold in 2022 by Jessica Northrop and Jeff Hendley of Compass.

1. 7007 Daniels Park Road - $8,040,000, listed by Jessica Northrop and Jeff Hendley of Compass Denver. Beautifully perched on 55 acres, this equestrian estate offers unobstructed mountain views and stunning green pastures on the border of Castle Pines and Sedalia including 36,000 square foot equestrian training center and a 2,200 square foot barn, all accessible through private, custom wrought iron gates.
2. 31 Albion Place - $6,340,000, listed by Brittany Morgan of Compass Denver and Ronda Courtney of Re/Max Leaders. Formerly the Colorado Home of the Year, the 48,351-square-foot home at 31 Albion Place is a masterpiece of modern architecture constructed of steel, concrete and glass, it is a fortress of sophistication and luxury. The home is nestled within the secure gates of The Village at Castle Pines and backs to the green of the 12th hole of the exclusive Castle Pines Golf Club.
3. 9719 Chatridge Court - $5,899,999, listed by David DiPetro of Compass Denver. Located in Chatfield Ridge, 9719 Chatridge Court is an impeccably built estate situated on 41.5 acres with panoramic views of the beautiful surroundings. In addition to the magnificent 15,023 square-foot-home, the property hosts a full size illuminated basketball/tennis court, lush landscaping with a water feature, fire pit, and 41.5 sprawling acres to enjoy the freedom to ride horses or ATVs.
With its foothold in the Denver market and across Colorado, Compass is showing no signs of slowing down in 2023 and the Schossow Group is helping to lead the way. Learn more about the advantages of working with The Schossow Group of Compass and contact our team if you're thinking about making a move in 2023.
Data source for Douglas County Data: REColorado January 1, 2022 - December 31, 2022. #1 Brokerage in Denver and Boulder based on closed volume data from REColorado, 2020, 2021 and 2022.
---
If you're curious about buying or selling in Colorado, give us a call today and we'll go to work for you. Learn more about our team here or search all Colorado homes for sale.
More from the Schossow Group: