13 Tips to Maintain Your Colorado Home This Spring
From the garden to the gutters, Colorado homes spring to life with these simple maintenance tips.
The Schossow Group
April 28, 2023
Spring is a time for renewal, rejuvenation, and revitalization, and that means it's the perfect time for Denver homeowners to get their homes in tip-top shape. From cleaning to gardening, here are some tips for sprucing up your home this spring. Little steps can go a long way so look to accomplish these one at a time, or schedule them out over the course of a few weeks.
Spring is a perfect time of the year to catch up on some annual maintenance on your Colorado homeowner to keep it feeling like home and increase its value.
Clean your gutters and downspouts
Winter can leave debris, leaves, and other buildup in your gutters and downspouts, which can cause water damage if left untreated. Grab a ladder and remove any debris, then flush out the gutters and downspouts with a garden hose to ensure proper drainage.


Check your roof
Spring is a great time to inspect your roof for any damage caused by winter storms or heavy snowfall. Look for missing shingles, cracks, or other damage and repair as needed. It's also a good idea to have a professional roofing company inspect your roof for any potential issues.


Schedule HVAC maintenance
With the warmer weather on its way, it's important to ensure that your air conditioning unit is in good working order. Schedule a maintenance checkup with a professional HVAC company to clean your system, replace filters, and identify any issues before they become major problems.



Clean your windows and screens
As the sun starts to shine more often, you'll want to make sure your windows are sparkling clean. Use a squeegee and a mild cleaning solution to wash your windows from top to bottom, and don't forget to clean your screens too. You can simply start by removing any dust or debris from the screens with a soft brush or vacuum cleaner. If any screens have rips or holes in them, you can repair or replace them.


Pull some weeds!
In Colorado, we enjoy all four seasons. As the winter turns to spring that means it's soon times to put the shovels away for the warmer weather's tools of rakes, lawn mowers and weed trimmers. Depending on the size of your yard or garden this may be a quick walkthrough or a day spent soaking up the sun, but take some time to walk your yard and pull weeds, pick up trash, sweep the patio and spruce up the yard. It will soon be time for relaxing evenings on the patio or the deck!


Start a garden
After you've taken a day to spruce up your yard, spring is the perfect time to start a garden…whether it's a small herb garden, flower garden or a larger vegetable patch. Denver's sunny weather and mild temperatures make it an ideal place for growing a wide variety of plants, so get out there and start planting. You can get a head start on this with a seed garden - view our blog Tips for Growing a Seed Garden in your Colorado Home



Declutter
Spring cleaning is a great opportunity to declutter your home, your garage and get rid of any items you no longer need. If you have significant trash to get rid of we recommend buying a Waste Management Bagster Bag. They are available at your local Ace Hardware, Lowe's or Home Depot. These bags can hold up to 3300 pounds so there will be plenty of space to get rid of the unused items in the garage. When you are ready to have it picked up call Waste Management (1-866-909-4458) and they will come out in a flash.


Donate
If you have items that could be of use to someone else, find things to donate. Maybe there's another child in your neighborhood who could use your daughter's old bike or a family or friend who would appreciate that toy lawnmower more than your son who's outgrown it. If not, contact your local ARC and schedule a donation pick-up so these items can go to a new home. See all accepted donation items and how ARC benefits your Colorado community at arcthrift.com/donations


Check your sprinkler system
As you start watering your lawn and garden more frequently, make sure your sprinkler system is in good working order. Check for leaks, broken heads, or other issues that may need to be addressed. The sooner the better as you gear up for the summer! It's easier to quickly fix a sprinkler head than try to revive a dead area of your lawn.


Replace batteries in your smoke detectors
Not many things are more annoying than a beeping smoke detector at 3am because the battery is dead. A good habit to get into is to change your smoke detectors at each instance of the Daylight Savings time changes – once in the fall and once in the spring. This will ensure they are in good working order and avoid the annoyance of an inconvenient beep. You'll hopefully never need them but, in the instance that you do, it could literally be a matter of life or death for you and your pets.


Touch up interior and exterior paint
The spring is a great time to take inventory of any scratches, scrapes, imperfections or touch up spots both outside and inside of your home. While you declutter, you can also take inventory of your paint cans and keep them labeled by room. You may be surprised at how just a simple annual touch ups can keep the paint looking like new rather than slowly deteriorating to a point that requires more than a quick fix.


Clean out the pantry and the fridge
Spring is a great time to start fresh. Go through your pantry and fridge. You'll almost always be surprised to find those old leftovers that get stuck in the back or cereal that expired two years ago. Throw out the old food, wipe down the surfaces and make way for a fresh start to the spring and summer.


Prepare for outdoor activities
With the warmer weather, it's time to start thinking about outdoor activities like barbecues, picnics, and hikes. Make sure you have all the gear you need including sunscreen, bug spray, and cooking equipment such as grills and smokers.
Your home is your most valuable asset. By following these tips, Denver, Colorado homeowners can get their homes and yards ready for spring and enjoy the warmer weather to its fullest. Happy spring cleaning!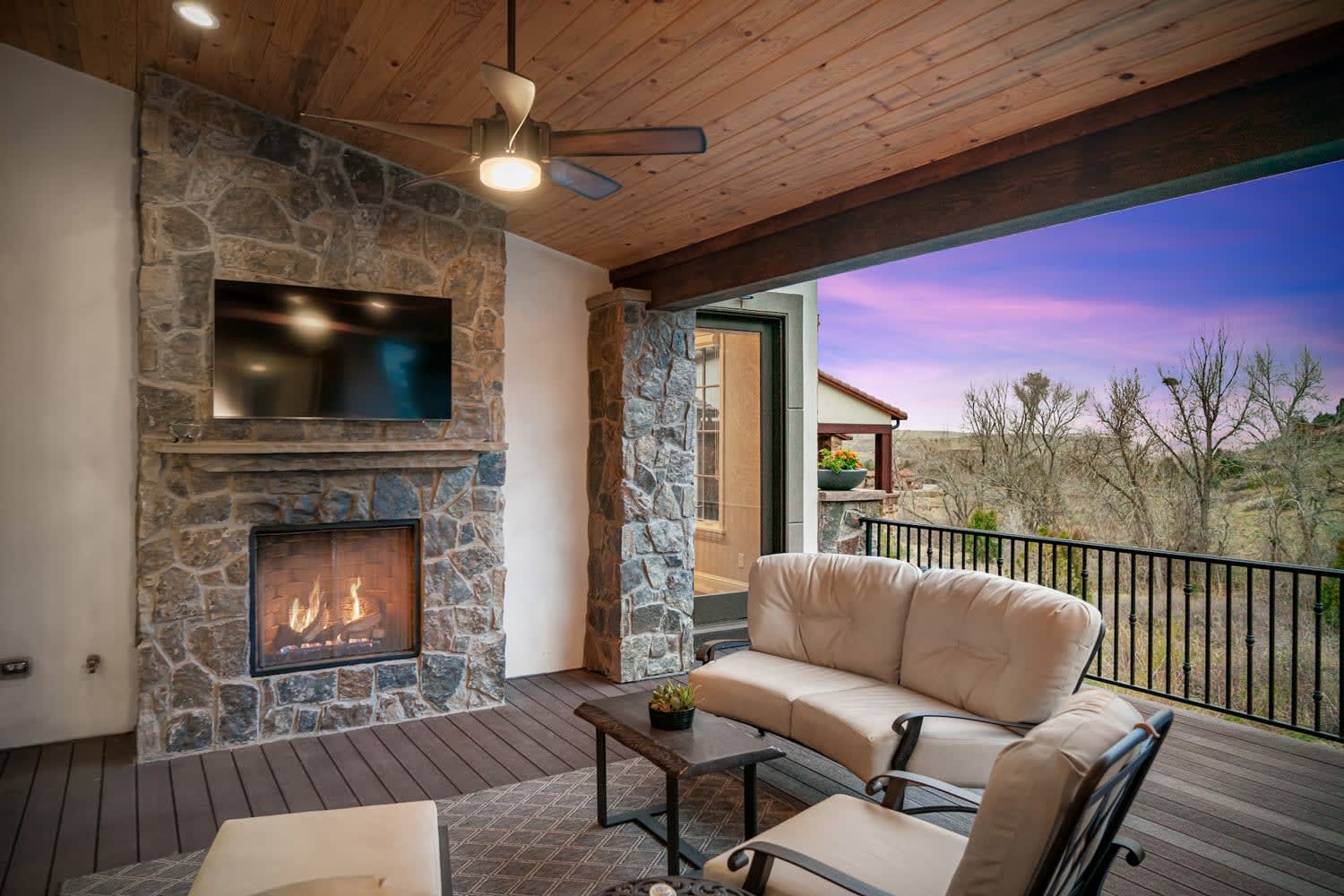 Above: A spectacular patio at Ravenna in Littleton is set up and prepped for the spring & summer season of social and sporting events.

---
If you're curious about buying or selling in Colorado, give us a call today and we'll go to work for you. Learn more about our team here or search all Colorado homes for sale.