Relax & Refresh with the 2023 Paint Colors of the Year
Sherwin Williams Redend Point Let's You Start 2023 with a Rose Tinted View...
The Schossow Group
January 27, 2023
The new year often brings with it a desire to start fresh and plan upgrades for your home in the coming year. Updating or changing your interior paint is one of the most underrated improvements you can make to your property. The paint colors you choose can enhance your home in ways you couldn't imagine before.
Each year, Sherwin Williams selects a color of the year. Their selection may not always match your personal style, but it is a great place to start and the paints they pair with the yearly color may be the right fit.
For 2023 Sherwin Williams has selected Redend Point (SW-9081). This new color is a sizable step away from the cool gray tones we have become accustomed to seeing. A soft and soulful neutral, Redend Point can add comfort and versatility to your space. This blush - beige creates coziness in a myriad of locations. From study nooks, to welcoming foyers Redend Point is warming rooms one at a time.
Homeowners in Colorado and beyond continue to find ways to make their homes more of a sanctuary from the world around them. Redend Point is on cue with this process providing a relaxing hue that promotes revitalization and rejuvenation. Similar in hue to the red rock formations found throughout Colorado, this gorgeous color is sure to be a show stopper. Given the constant movement of the modern world, a home that provides warmth, peacefulness and refuge can do wonders for our spirit and mental health.
If Redend Point is simply not for you, perhaps the following pairing suggestions might be. For a captivating contrast color, Sherwin Williams has paired Foothills (SW 7514) with Redend Point. This warm stone neutral will have you looking for additional spaces to paint. Appropriately named considering our beautiful Colorado cities, Foothills may provide the right combination to invite the natural beauty of the Rocky Mountain outdoors to shine through your windows and into your homes. Consider this dark gentle hue for an accent wall in your entry or living room.

If dark colors concern you - perhaps you are looking for the perfect white (a lifelong search, really) Sherwin Williams Pure White (SW -7005) continues to be on all the top white lists and is loved far and wide. With the slightest yellow undertone, Pure White is flexible without appearing stark. This paint is the ideal trim color complementing both paints previously mentioned perfectly.
Lastly, Urbane Bronze (SW - 7048) adds a foundation to all these color suggestions. Rooted in nature, Urbane Bronze brings you back to earth with its rich deep brownish gray evoking tranquility and a sophistication that is hard to create. Urbane Bronze would be gorgeous in a powder room or as an accent wall in a primary suite. The complementary colors to this beauty are endless.
While Sherwin Williams provides their annual color trends and pairings, it should be noted that other paint companies and design experts also provide their on-trend colors for the year. Here is a list of 2023 colors of the year from other companies:
Viva Magenta, Pantone – A bold pinkish red, as what they call "an unconventional shade for an unconventional time."
Spanish Moss, Krylon – Forest green, playing on recent trends of rich earthy tones of recent years.
Blank Canvas, Behr – A creamy shade of white that "effortlessly offers a clean slate."
Raspberry Blush, Benjamin Moore – A vibrant red-orange as the company states "People are ready to bring color back into the home."

Terra Rosa, Dunn-Edwards – A soft, earthy blend of brown and burgundy
Vining Ivy, Glidden – A blue-green "jewel tone that works well with both contemporary and classic styles."
Canyon Ridge, Better Homes & Gardens – A pink-orange hue that pairs will with bright or navy blue.
Aged Barrel, Minwax – A brown shade of stain which delivers a "reassuring and nurturing mood that embraces organic beauty and natural aging."
As winter continues and you are looking at your home with New Year eyes, remember what paint can do. For a minimal cost and time commitment, you can transform a dated or tired space to one that nurtures your soul and mental health in the New Year and beyond.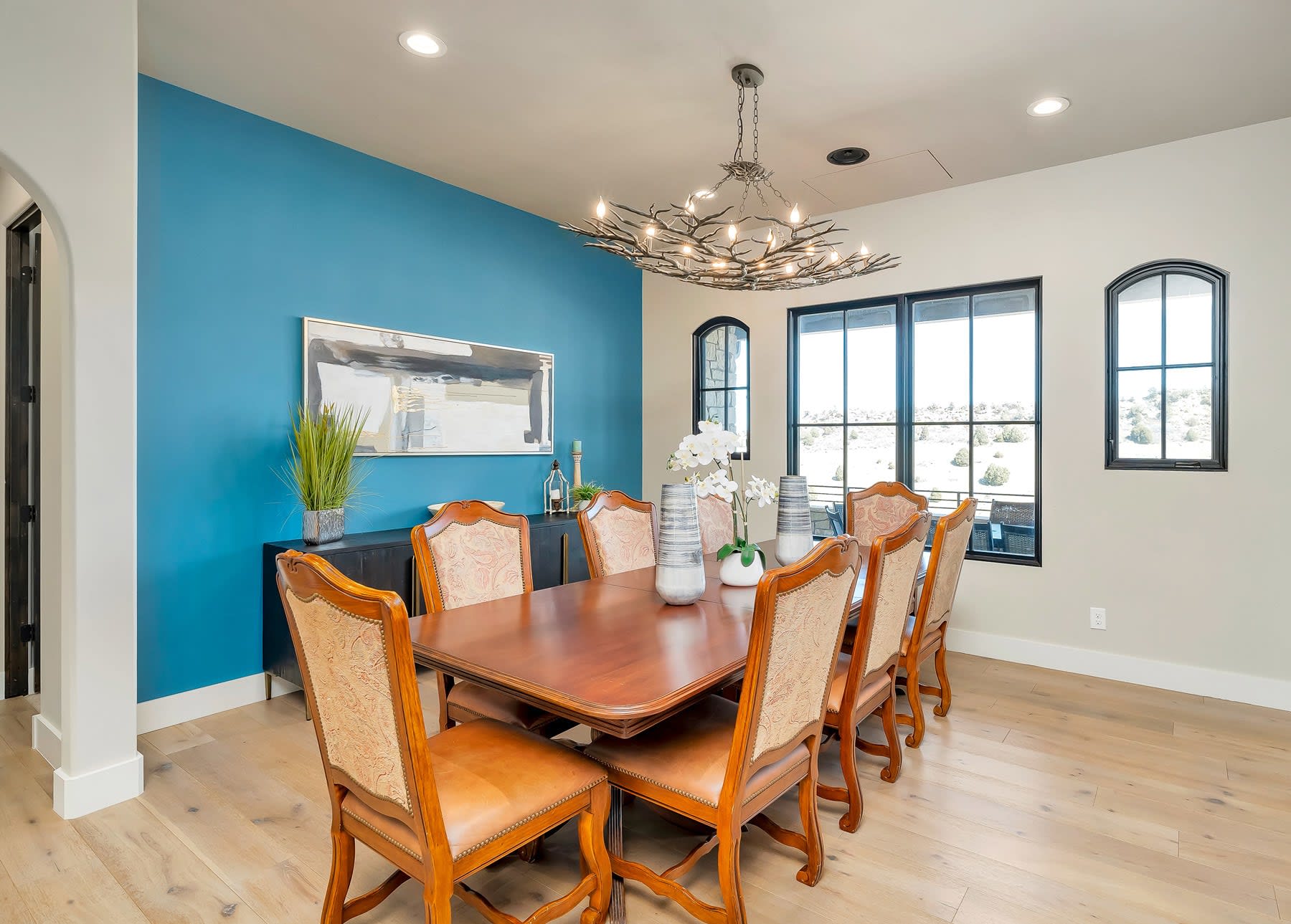 Above: After a trend towards neutrals and earthy tones in recent years, bold accent walls are in. Pictured here: 7590 Raphael Lane, sold by The Schossow Group
---
If you're curious about buying or selling in Colorado, give us a call today and we'll go to work for you. Learn more about our team here or search all Colorado homes for sale.
More from the Schossow Group: