2021 Colorado Springs Parade of Homes Celebrates the Local Homebuilding Community
The opportunity to take part as a judge is a "full-circle" moment for Molly Petrelli of The Schossow Group
By Molly Petrelli
September 12, 2021

​​​​​​​I was honored and thrilled to be chosen to judge in this year's Colorado Springs Parade of Homes presented by the Housing & Building Association of Colorado Springs. The event takes place September 10 – 26 with homes open Wednesdays through Sunday from 10am – 6pm and our judging duties took place prior to the event opening to the public on Thursday, September 9.

Growing up, I remember many weekends being spent with my parents visiting the Parade of Homes or new communities and walking through the model homes. Though my parents still live in the same Denver house they've proudly called home for more than 40 years, they loved (and still do love) spending free time exploring the different communities and seeing the latest trends in housing, interior design and construction. Perhaps that's where my love of real estate was born, if even unknowingly at the time. This was a full circle moment and being able to participate professionally was a wonderful and fun experience that I fully embraced!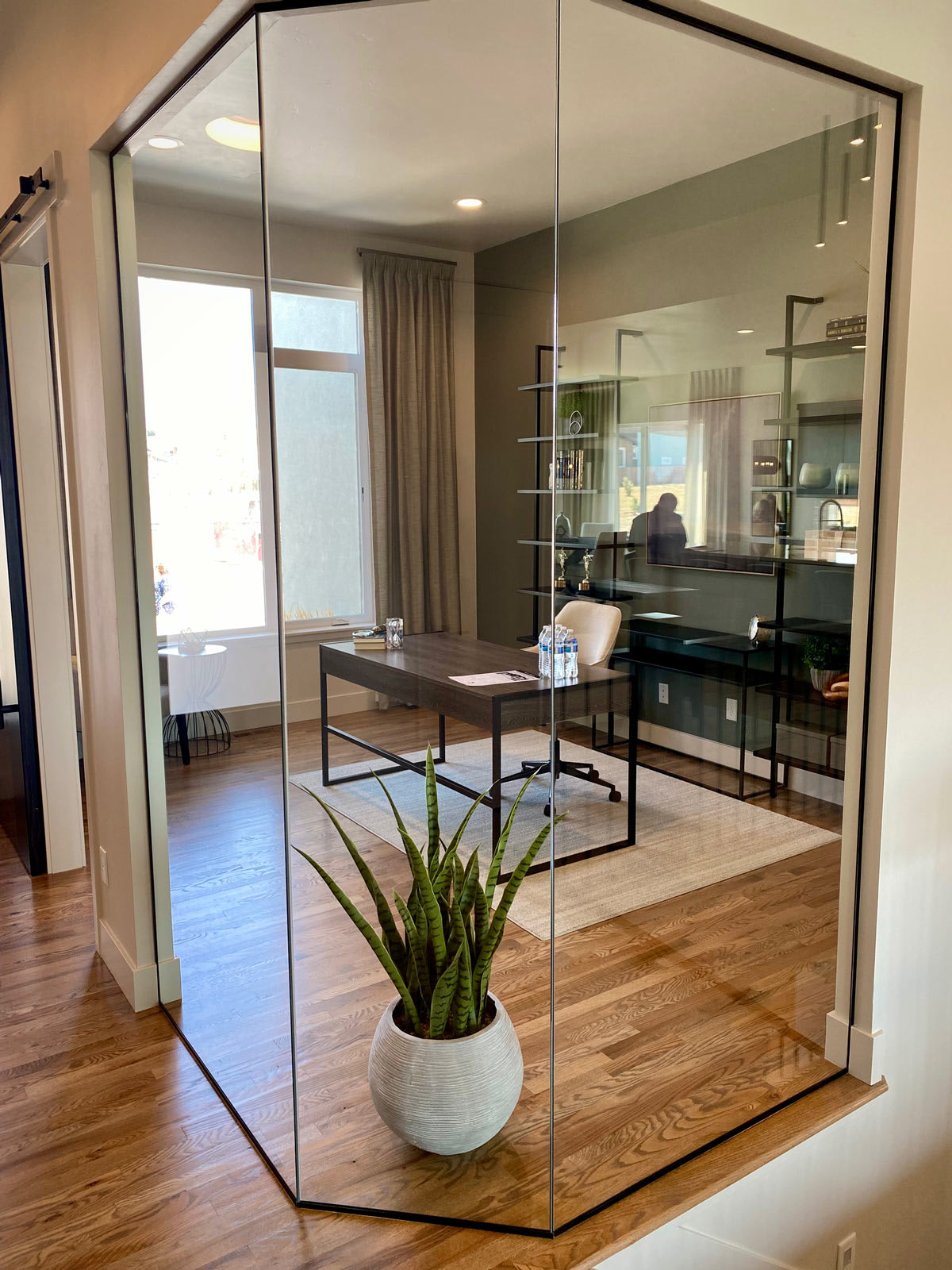 Stylish home offices are a hot trend in 2021 with many working remotely. I particularly loved this one!
​​​​​​​Together there are 19 homes in the Parade across all of Colorado Springs, presented by 17 of the area's homebuilders. The prices range from the mid-$300,000s to nearly $6,000,000 so we, and parade visitors, are able to see a variety of homes, styles, floorplans, landscaping and communities. Featured communities include Wolf Ranch, Banning Lewis Ranch, Flying Horse North, Gleneagle, The Preserve at Walden, Cathedral Pines and several others.

Obviously, looking at houses is my jam. Getting to see the creativity of different builders across different price ranges and work alongside a team of designers and architects as we judged each home brought the homes to new light for me. I learned valuable insight that I can bring back to my buyers and sellers alike (and also plenty of new home décor inspiration for our own home)!

The VIP Party at the enchanting Banning Lewis Ranch's Northtree Ranch House kicked off the event and included live music, hors d'oeuvres, whiskey tasting and a beautiful Colorado sunset. At the center of the Banning Lewis Ranch community (which features three homes in the tour), the Ranch House includes a junior Olympic pool, plenty of outdoor and covered patio space suitable for large events, complimentary grills, high-tech fitness room, meeting rooms and is adjacent to a large park, and Banning Lewis Ranch Academy, a public K-8 charter school.

As judges, we each carefully evaluated six homes across different price points. The categories we judged included best kitchen, master bedroom/bathroom, interior design, interior architecture/floorplan, exterior architecture. Each category will have a winner as well as an overall winner that will all be announced in early October. For parade attendees, there will also be prizes and giveaways including a $5000 La-Z-Boy shopping spree, a Ring Home Security Package, an Apple Watch as well as the ability to vote in the 2021 People's Choice Awards for each category.

To learn more about this year's Parade of Homes and/or to purchase tickets, you can visit springsparade.com. A map of the homes is available online so you can plan your visit accordingly. I'm thankful to get to play a small part in a terrific event for the community and hope you are able to visit this year's Parade. Who knows, bring your children and maybe it will spur a passion in them. If you attend, I want to hear about which homes and styles were your favorite!
The "Chateau Rue de Voi" at 5305 Stagecoach Road and built by Villagree Luxury Homes is one of the featured homes this year, and also the most expensive - with a selling price of $5,912,000 (rendering via springsparade.com)
Above: A map of the Colorado Springs Parade of Homes (via springsparade.com)
Photos from the VIP Party at Banning Lewis Ranch...
---
If you're curious about buying or selling in Colorado, give us a call today and we'll go to work for you. Learn more about our team here or search all Colorado homes for sale.
More from the Schossow Group: